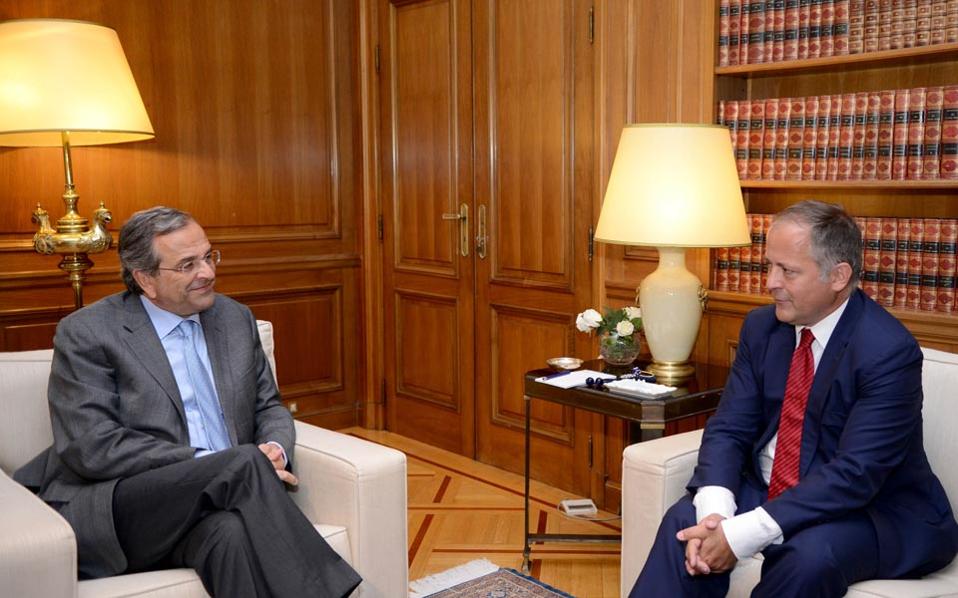 By Spiros Sideris – Athens
The member of the Executive Board of the European Central Bank, Benuā Kerē, was in Athens yesterday and had meetings with Prime Minister Antonis Samaras, Finance Minister Gikas Hardouvelis and BoG Governor Giannis Stournaras.
Speaking to Skai TV, answering the question whether Greece will still need supervision, he said: "There is a need for a framework within which the reforms will take place. An institutional framework is needed. This is also needed by the countries that have lent money to Greece to monitor the progress of reforms".
In regard to enhancing liquidity in the market,  Kerē noted that the ECB is in talks with the BoG as to how Greek banks will be able to access guarantees. Commenting on the stress test he noted that the results will be announced at the end of October and that today is still too early to attempt any estimates. For the Greek banks he said that they have taken important steps and stressed that their return to international capital markets is a very positive thing.
For the Greek economy pointed out that the signs are encouraging. "The Greek economy has gotten over the worst part, unemployment is slowly declining, growth returned to positive grounds, however, there is still much to be done, many reforms must be made. The economic situation, however, seems better now", Kerē pointed out.
In the meetings between Kerē and the Prime Minister, Minister of Finance and the Governor of the Bank of Greece, the focus was on the upcoming evaluation of the greek program. The discussion also revolved around liquidity in the domestic market and ways to strengthen it, the issue of non-performing loans and the stress test carried out by the ECB in the framework of the banking consolidation.
The stress test and liquidity were the focus of the meeting Kerē and Stournaras, the BoG Governor. According to reports, the BoG emphasized that the evaluation of active banks with a base year of 2013 put domestic banks at a disadvantage, as it is a year that had several exceptional events such as the absorption of the Cypriot banks. The BoG is pushing the ECB to recognize the greek peculiarities in certain issues – as is the one of the cypriot banks – and receive a special treatment. In the agenda were also the alternative ways to enable the Greek banks to benefit from targeted injections of liquidity by the ECB (LTRO), but also to broaden the choices and opportunities so that domestic banks gain access to guarantees for liquidity purposes.