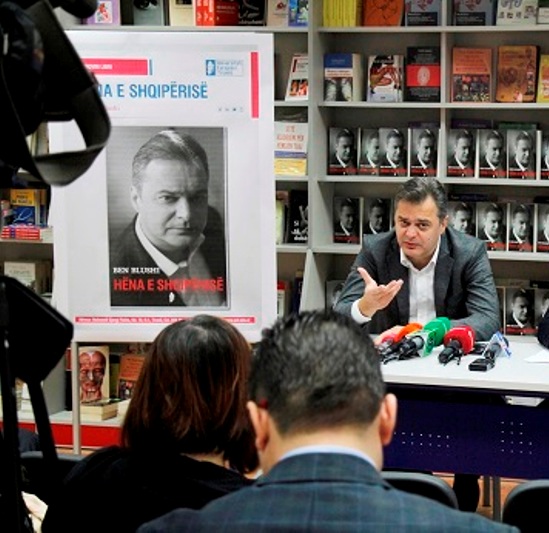 IBNA Special Report/Prominent politician of the left wing, but in the recent years, a writer too. Ben Blushi strikes again with a new book. He comes out with "Albania's moon", which after the success of "Living in an island", emerges like a new ambitious work
Tirana, April 7, 2014/Independent Balkan News Agency
"Albania's moon", the book which came out in the recent days, contains 19 essays-ideas. The author says that they describe in detail what Albania is today, but it also looks into the future. Meanwhile, he stresses "when I write, I never forget that I'm a socialist, in spite of the temptation to link the writer with the politician".
"This book aims to make a forecast, bearing in mind Albania today and Albania in the past. Looking into the past of Albania in the last 100 years, looking into its present, perhaps it's a little easier to look into the future, of course by taking into account the political context in which we live, Europe, region, the world in general".
The book starts with an imaginary episode that sees Albania defeated by the great catastrophes which are changing the map of the world. But, problems such as inequality have a strong Albanian nature and origin and today they are spread on a national level. This is inequality.
Pessimistic thoughts on the next 100 years of the year
The big topics of the development of the country are seen in a skeptic way by Ben Blushi. He considers big development issues as affected by the "moon's illness". In this book, Ben Blushi addresses a question as to why Albania, taking into consideration the past and the present, is today an unfair country with Albanians.
"What sort of country will Albania be in the next 100 years?-"What sort of direction will we give to society, economy, parties and schools in the years to come?" Ben Blushi answers these questions through what he considers as efforts to make an actual forecast on the future.
What inequality Albania has!
Blushi says that inequality in Albania is high, with the most distinct features in Europe. "Inequality will become even stronger in Albania. Unfortunately, twinning between the rich and the political elite is becoming clearer and stronger", says Ben Blushi.
"The way in which we will deal with inequality and inequality in the future will have its effects", says Blushi.
Emigrants left, but why?
While he talks about emigration, Blushi says: "1 million Albanians have emigrated. But why did they leave? Did they leave because one could live very well here in Albania? No. They have left because the living conditions are poor, because there's no work and schools", says Blushi.
We will enter the EU, but the cost remains a mystery
Ben Blushi says that the EU accession will come, but its cost, according to him, remains a mystery. "I'm convinced that unification with Europe will happen. What's unknown is the cost that it will bear for us. Unification with Europe will not be an easy process. We're not as close as we should have been, but we're closer than ever in history and this I try to say in the book, while I try to deal with the future", says Mr. Blushi.
Unification with Kosovo, a complicated process
Blushi believes that unification with Kosovo may happen in the future, but this, says he, only if we have two models of development that walk hand in hand to each other.
"Unification with Kosovo? It would be good to be a big state, a big market, with a consolidated national culture. This is also a complicated process in the near future.  Perhaps not. If these two countries do not move forward at the same time in the aspect of development, democracy, application of the law, culture, the unification will not be an easy process in the future, taking into account international conjectures, for which I don't believe that they will always be favorable", says Blushi.
He predicts that Albania will have more reasons in the future to ask for the unification with Kosovo than Kosovo itself, which will be less reflective or more passive in this aspect.
Talking on growing nationalism, Blushi says that Albania will be more active and adds: "Political parties will start to engage in a race, like it has happened in past elections, as to who is a bigger nationalist and who will achieve a faster unification of Albania to Kosovo, because the political environment of Albania, where parties discuss on taxes, education, culture, is becoming extinct. Why are nationalist tones growing in Albania? This means that in the future, we will have a highly nationalist environment, we will have a race within Albania, but not in Kosovo, where nationalists will calm down". Mr. Blushi also has a warning for those who want the unification of the two states: "If Albania and Kosovo will make a mistake in the future, this mistake will be the nationalist race as to who desires unification more".
Part of the political thought
Analysts say that "Albania's moon" may be a part of the Albanian political and social thought, in particular when it comes to the style that Blushi uses on important pan Albanian issues and the deep historical analysis that he makes. The first book of the Albanian political thought was, "Albania, what it has been, what it is and what it will be" by Sami Frasheri. /ibna/