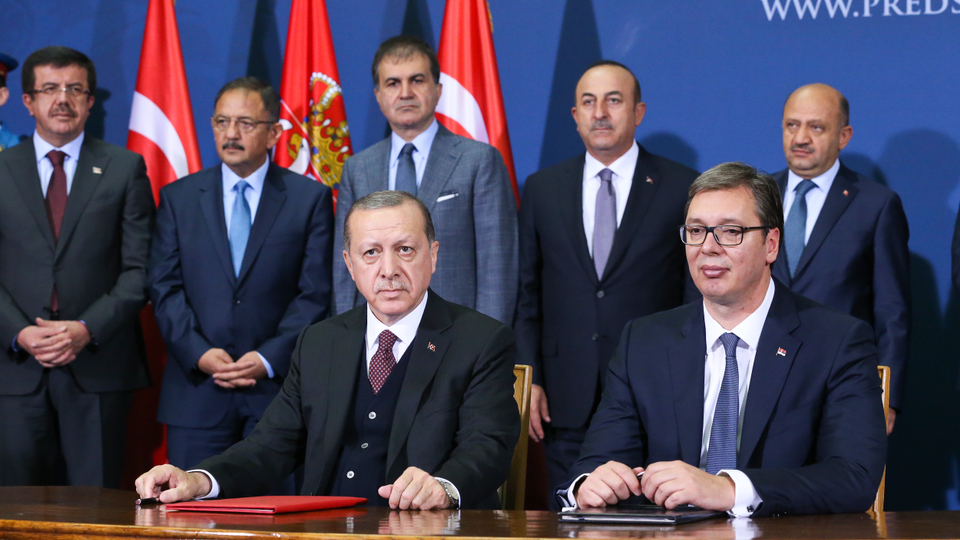 Serbian president Aleksandar Vucic and the Turkish leader Recep Tayyip Erdogan held a joint presser after their meeting in which Vucic made the following comments: "This is not 1389, as some think – this is 2017″ referring to the Ottoman Turks who, after the Battle of Kosovo, invaded Serbia which they occupied for about 500 years.
The Serbian president went on to note that his country sees Turkey and its people as" its friends " and believes their ties will only improve with time.
"Our relations are important for Serbia's future," Vucic said.
Erdogan openly blames the States
A long-awaited answer by Erdogan concerning the spat with the US came today from him at the press conference he gave with Vucic.
Hurriyet's online edition wrote: "'The offender in this problem is the U.S. itself… I personally find it odd that high-level U.S. officials did not conduct any means of communication with our foreign minister on the issue… Turkey has nothing to discuss with the U.S. administration if its envoy in Ankara has taken the decision for the visa suspension'".
The Turkish Head of State went on to say that the "farewell visits" of the American ambassador to Turkey touch neither himself nor any other member of the government since they do not consider him a representative of the U.S.of A. in their country, any longer.
He also clearly and openly questioned the infiltration of spies in the American Consulate, plainly saying that no serious country could or would allow spies in its territory, especially so if "…such spies could threaten it from the inside".
The aim of the visit
Future financial cooperation, free trade between them and the Turkish Stream natural gas pipeline will top discussions. Serbia wishes and expects to attract more investors from Turkey in the near future. Until then, Vucic and Erdogan already signed  a joint political declaration on the establishment of the High Council for Cooperation between their countries together with a dozen more agreements.
According to Anadolu Agency's report, Erdogan said: "We have completed our bilateral and inter-delegation meetings very efficiently. Later on, we will meet with businesspeople and we will be able to address them together."
Turkish president's arrival
Erdogan arrived in Belgrade earlier on Tuesday, under heavy security measures, for a two-day visit and accompanied by and a 185-business-people delegation.
About 3,000 policemen will be deployed in the streets of Serbian capital even more than those who worked during Putin's visit.
The Serbian president Aleksandar Vucic welcomed his counterpart in front of the Palace of Serbia, and then held a meeting with him.
The two politicians had a lot to discuss as their cooperation is "of key importance for maintaining stability, peace, and prosperity in the region, and throughout Europe", as Serbian "Politika" wrote.
On Wednesday, Erdogan is going to visit the town of Novi Pazar in southwestern Serbia…/IBNA
Photo: Anadolu Agency (AA)