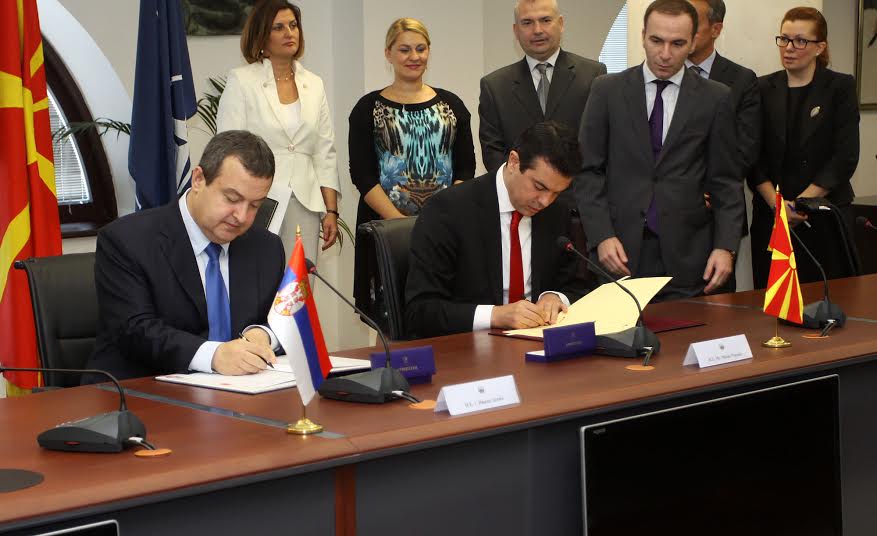 Skopje, September 15, 2014/Independent Balkan News Agency
By Naser Pajaziti
Foreign minister of Serbia, Ivica Dacic and that of FYROM, Nikola Popovski, signed today in Skopje the agreement to share diplomatic centers.
According to the agreement, the two countries will share their resources as far as diplomatic services are concerned, although it has not yet been made clear as to in which countries will FYROM and Serbia share embassies.
"In Berlin, where we took part in the meeting held by Angela Merkel, as I was walking in the city, I saw a building where five Scandinavian countries had a joint embassy in Berlin. If they can do such thing as the richest countries in the world, I believe that we can also do it", said Dacic.
Minister Popovski too praised the agreement between the two countries, but also warned such agreements with other countries.
"We believe that this is an extra step in the financial aspect in allocating funds in a very efficient way", declared Popovski.
The two ministers had also warned the holding of a second meeting of the two governments during the next two months.
"I hope that we will soon fix a date for the holding of the second meeting between the two governments which will be held her in Macedonia. Your prime minister has suggested that it will be held in October or November. I will also convey this to our prime minister in order to find a suitable date for such meeting", said Serb foreign minister. Dacic also met today with president George Ivanov and speaker of parliament, Trajko Veljanovski, while the meeting with prime minister Nikola Gruevski was not held due to the visit of the latter in Turkey. /ibna/