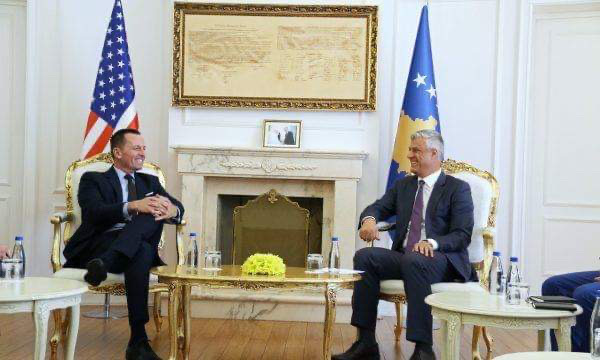 Kosovo president, Hashim Thaci, hosted on Wednesday the US Special Envoy on Kosovo-Serbia dialogue, Richard Grenell. After the meeting, Thaci issued a statement expressing his expectations that the Pristine-Belgrade dialogue would resume soon and a final agreement would be reached.
The President's Office in the statement quoted Grenell as saying that a potential agreement between Pristina and Belgrade would have a positive impact in the region. Thaci told Grenell that Kosovo is committed in finding a solution, adding that "active participation of the US in finding of a final solution between Kosovo and Serbia is a determinant factor."
After the meeting, the US Ambassador to Kosovo, Philip Kosnett, who accompanied Grenell during the meeting with Thaci, posted a Tweet saying that the Special Presidential Envoy Grenell looks forward to working with President Thaci and other leaders of Kosovo to help bring peace, justice and prosperity to Kosovo and the region.
Vetevendosje leader, Albin Kurti, was one of the first political leaders to meet with Richard Grenell. After the meeting, Vetevendosje issued a press release saying that Ambassador Grenell congratulated Vetevendosje for winning the October 6 elections and was interested to hearing their position on the dialogue with Serbia before travelling to Belgrade. According to Vetevendosje's statement, the US President's Envoy emphasised that the lack of an agreement between Kosovo wand Serbia is the main obstacle to foreign investments in Kosovo's economy.
"Kurti thanked Grenell on his role and the US support for Kosovo during the war and peace and expressed his readiness that as future prime minister of Kosovo to deepen cooperation with the United States. He agreed with Ambassador Grenell that Kosovo needs economic development and foreign investments, but stated that the main obstacle is the high level of corruption in the government, which creates instability and scares businesses," Vetevendosje says in the statement.
"When it comes to the dialogue with Serbia, Kurti said the content and process of the agreement are more important to its sustainability than the deadlines"./ibna