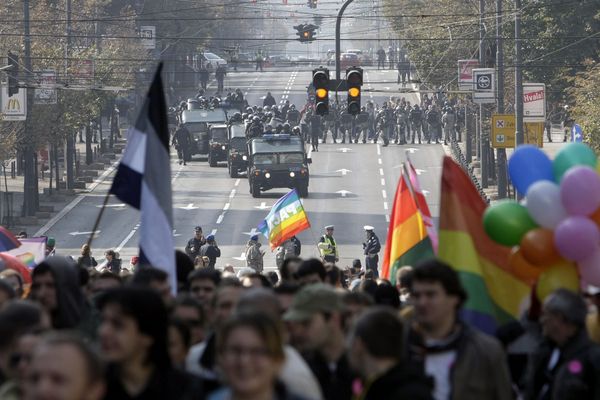 By Milos Mitrovic – Belgrade
Belgrade's mayor Sinisa Mali said that Pride Parade in Serbian capital would be held on May 19 if "competent authorities" approve it, alluding to security concerns.
"It is true that Pride parade is scheduled (for next week), but whether it will be held depend on the assessment of the competent authorities", Mali said on Wednesday adding that he would decide whether he would attend the manifestation.
Michael Davenport, head of European Union Delegation in Serbia, supported the efforts of local LGBT community to realize its rights and announced he would attend Pride Parade.
"Belgrade Pride" public relations team stated that Davenport has sent a letter to the group underlining he "completely understand the importance of all the events which raise the visibility of LGBT community in Serbia".
Davenport said that "the EU Delegation, as has been the case in the past, will continue to offer its support to the principle that it is a universal right, including for the LGBT community, to exercise freedom of assembly in a peaceful way. This right should of course be secured in accordance with the Serbian Constitution, as confirmed by the decisions of the Constitutional Court of Serbia on previous bans of the parade."
On the other hand, conservative non-parliamentary party "Dveri" announced it would strive for Pride Parade to be banned. Pride Parade, according to group," makes the first step that would be followed by an open spreading the ideology of homosexualism".
"The end of this process would then be legalization of homosexual marriages and children adoptions by such (homosexual couples), "Dveri" official Danilo Tvrdisic said.
In 2013 "Dveri" suggested that Serbia should adopt the law that would ban homosexual propaganda, just like it was the case in the Russian Federation.