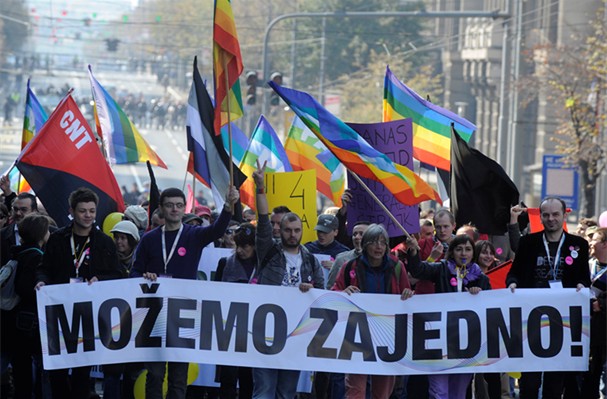 By Miloš Mitrović – Belgrade
Serbian Security coordination Bureau decided not to allow Belgrade Pride Parade scheduled for Saturday. Prime Minister Ivica Dačić explained that "all rallies" set up for Saturday has been forbidden "principally due to security reasons".
Belgrade Pride 2013 organizers were faced with strong opposition, as it has been the case in previous years. On Thursday, Serbian Orthodox Church Patriarch Irinej reiterated that "shame parade" is not acceptable; he said that "our people are pressured by so many troubles and we do not need this scourge". Earlier this week PM Dačić said that "homosexualism isn`t normal", and that Serbia has been pressured by European Union to allow Pride Parade.
Dačić suggested that Serbia must protect the rights of gay population "but this does not mean that I should become homosexual just for the sake of EU integration".
On Friday evening, groups which are opposed to LGBT organizations held the rally in central Belgrade`s Knez Mihailova Street. Strong police forces secured the manifestation.
It is believed that Serbian government gained the political momentum by forbidding the Parade – on one hand, both conservative voters and institutions had been satisfied; on the other, gay rights are not among the EU priorities in Serbia. Brussels keeps focusing its attention to normalization of the relations between Belgrade and Priština. At this moment, putting pressure on Serbia with regard to gay rights could be counterproductive.
"Security accounts suggest that serious public order violation could happen" if the Pride has been held, Dačić said on Friday. "Security and the safety of citizens are the mere reasons above the rights and freedoms", Serbian PM specified.
With regard to government member's positions on Pride, Dačić revealed "some believed that allowing the manifestation would send a positive image of Serbia to the world". "But what would be the image if someone dies and what would be the consequences for our country", Dačić said.
Organizers of the planned Pride Parade announced previously that everything was ready for the gathering to go ahead and that they expected the authorities to allow it. According to reports, the police was also prepared, with 6,500 officers set to provide security for the event – which would have been the largest deployment of the police in the history of Belgrade.