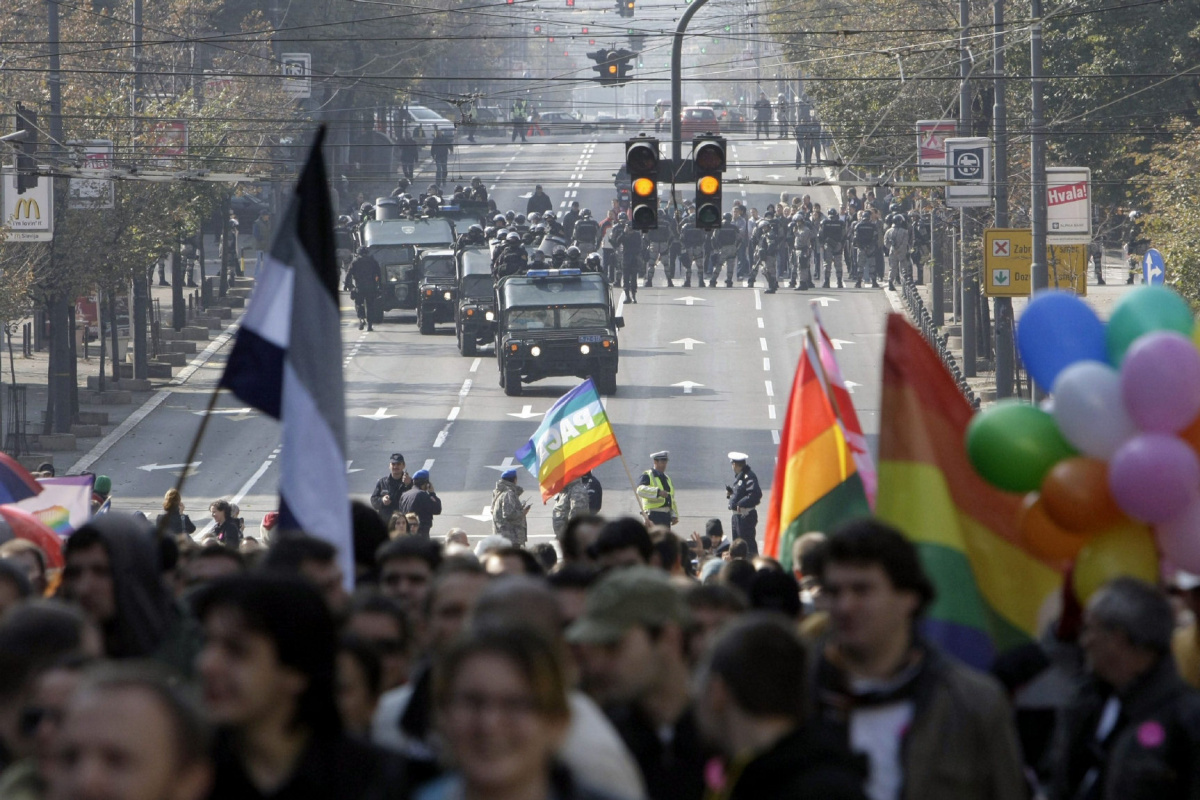 By Milos Mitrovic – Belgrade
This time Pride parade in Belgrade will be held, organizers are convinced; however, they stress that the security risk assessment for the manifestation is not their job. European Union Delegation head Michael Davenport and Tanja Miscevic, head of Serbian negotiating team for accession to EU have announced they would attend the Pride.
Last time Pride parade in Belgrade was held in 2010 with some 1000 participants, but police has clashed with six thousand anti-gay protesters. Ever since every attempt of organizing the parade was banned due to security concerns.
Boban Stojanovic, the representative of the Pride, said today that the interior minister Nebojsa Stefanovic has been convincing organizers that police was doing its best to secure the manifestation. He has added that the meeting with Stefanovic had a pleasant air and that "all leads" to conclusion that the parade would be held as it has been planned, Tanjug reported.
According to Stojanovic, atmosphere is now significantly different when compared to previous years with lower tension in public and media.
"I also think that the number of threats we are faced with is now pretty lower, but in any case we are informing police about them", Stojanovic said adding that police now reacts faster.
Explaining that the human rights cannot be achieved overnight, Stojanovic said that whatever happens on 28 September LGBT organizations in Serbia would continue their struggle for "country to become democratic and the security of all to be undoubted".
He emphasized that Prime Minister Ivica Dacic would not lead the parade.
"Anyway, he is not the one who should be there. We are supposed to lead and we will do so because it would be public manifestation rather than Dacic's private one".
When journalists recently have asked PM whether he would lead the Pride he replied with counter-question: "Would you?" He added, however, that he strives for the consensus about the issue. Deputy PM Zorana Mihajlovic has said that the government supports the manifestation. Mihajlovic added she would not attend because she would not be in Belgrade.
Pride parade is an important step in Serbia's path to the European Union, EU delegation head Michael Davenport said earlier this month. He said he would attend the parade as well as Tanja Miscevic, head of Serbian negotiating team for accession to EU.
Miscevic explained that she firmly believes in freedom of assembly.
Germany warns its citizens
German Ministry for Foreign Affairs has warned German nationals who intend to travel to Serbia that Pride parade was planned in the center of Belgrade which "may cause difficulties and restrictions in traffic". The ministry stated that political situation in Serbia is basically calm; however, the travelers have been advised to follow the developments through the media.
Earlier this month German national Denis Honig (27) has been beaten in Belgrade in the street; Honig has attended conference on LGBT rights.
Photo: Pride parade in Belgrade 2010