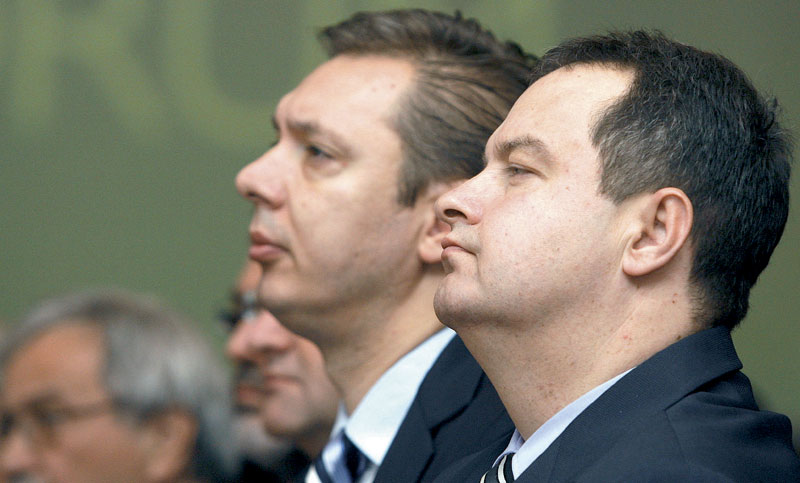 By Miloš Mitrović – Belgrade
Serbian government as well as "Srpska" coalition supported by Belgrade pleads the new local elections to be called in the northern Kosovska Mitrovica, day after voting has failed due to incidents. Kosovar Central electoral commission (CEC) has not decided yet whether the Sunday`s elections in Mitrovica, the central Serb municipality in the north, would be annulled.
On Wednesday, Serbian Prime Minister Ivica Dačić and his deputy Aleksandar Vučić will meet Kosovo PM Hashim Thachi and EU High Representative Catherine Ashton in Brussels. The representatives of "Srpska" coalition at the Kosovo local elections, which generally passed smoothly, stated that "international community should be blamed for the irregularity of voting".
In the end of the voting day, masked attackers have destroyed ballot boxes at the several polling stations in predominantly Serb-populated northern Kosovska Mitrovica. The members of the extreme-right political organizations such as "Obraz", which had been banned by Serbian court, were intimidating the citizens willing to vote. Strong boycott campaign against the elections, perceived to be illegitimate as well as the "false state of Kosovo", has been organized by Democratic Party of Serbia (DSS) of the former Serbian PM Vojislav Koštunica.
Serbian government seemed to be highly frustrated over the voting failure in the northern Kosovska Mitrovica. Shortly after the violence at the polling stations occurred, Deputy PM Aleksandar Vučić has said he requested permission from international community Serbian police to intervene in order to "calm down the situation within 45 minutes".
Holding local elections in Kosovo, which would cover Serbian municipalities for the first time since the independence of the territory has been proclaimed in 2008, was among the main European Union demands from both Belgrade and Priština.
After the Brussels agreement on normalization of the relations between Belgrade and Priština had been initialed in April, EU decided to start accession negotiations with Serbia and sign SAA agreement with Kosovo. Serbia-EU talks would start "at the latest in January", depending on the fulfillment of Brussels agreement.
The previously held elections in Kosovo have been boycotted by Serbian municipalities which considered them unconstitutional. The elections in these municipalities have been organized by Belgrade so far.
Krstimir Pantić, "Srpska" candidate for the north Kosovska Mitrovica mayor, said that Serbian government "did its best in order elections to be implemented in optimal circumstances".
"If the international community wants elections to be held in the fair and democratic atmosphere, it should timely take all necessary measures. First of all, poll list should correspond with the situation in reality", Pantić said adding that conditions for the normal voting should be secured.
Pantić complained that UN mission forces (KFOR) as well as the EU law enforcement officers (EULEX) and the police of Kosovo have been "indifferent" during the incidents in Mitrovica.