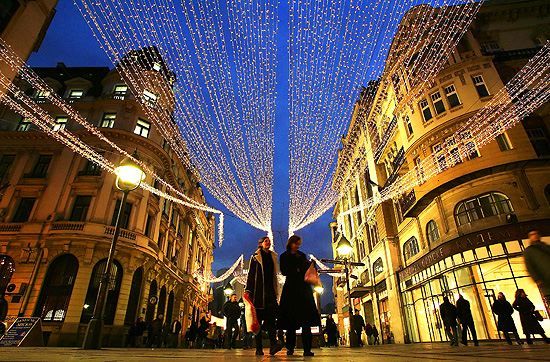 Summer is not over yet, but the Belgrade authorities have already started to decorate the streets – for the New Year festivities. The officials say that they had to start "on time", because the city is big. At the same time, the amount of the money from the budget invested in decorations has been increased. In 2014, the price of decorations was three million dinars; now, it is 340 million dinars (2.8 million euros).
The decorating started exactly 112 days before New Year's Eve. "That's dynamics", deputy mayor Goran Vesic told N1 television. Vesic rebuffs criticisms.
"I am politician; the only comments that matter, from my perspective, are the results of the elections. More that 50 percent of the citizens have voted for us", Vesic said, alluding to coalition around Serbian Progressive Party (SNS) led by president Aleksandar Vucic.
"Those opposed to decorations have gone through a fiasco at the elections, as you know", he added.
Radomir Lazovic, the representative of the civic initiative "Don't drown Belgrade" suggests that Vesic and SNS are trying to turn the Serbian capital into their "private city".
He underlines that the same company is chosen to decorate the streets every year. "Calls for bids are organized in the manner which enables only 'Keep Light' company to get the job". According to Lazovic, "politicians are simply rigging" calls for bids in order for the work to end up to their partners.
Goran Vesic claim that New Year decorating in September is not unusual. "Just go to Budapest, Moscow or London and you will see the same".
The Alliance for Serbia, main opposition group, has called the move of the city authorities "madness", suggesting that money for decorations should be transferred into local schools or public transportation./IBNA