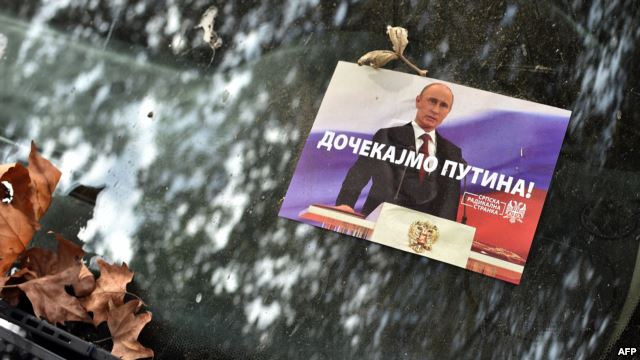 By Marija Avramovic – Zagreb
The celebration of 70 years of liberation of Belgrade in World War II, which is also a celebration of anti-fascism, was marked by a large military parade, with President of Russia Vladimir Putin attending as a guest of honor.
BBC stated in an article about the big parade that 'it was loaded with symbolism' while most of the Serbian media calls this almost a historic moment.
During his six hours long visit Putin stopped by "The Big Russian" graveyard with his counterpart from Serbia Tomislav Nikolic, signed a few agreements and watched a grand parade by the Serbian army.
This was the first military parade of this kind since 1985 and about 3,000 Serbian soldiers took part in front of some 10 thousand people and delegations on the streets of Belgrade.
Following a gun salute, the Serbian army showcased its troop units, tanks and artillery, along with an air display.
From a total of close to EUR 18 billion of foreign direct investments, which have arrived in Serbia for the last ten years, from Russia comes EUR 650 million, or about 3.5%, stated the portal pescanik.net in  an article.
Putin and several other members of the Russian delegation signed bilateral agreements, on cooperation in the military-technical field, on energy, cheese and on other matters.
No one knows the exact cost of the parade, in financial terms nor terms of resources, but it is certain that it does not come in good time for the people of Serbia.
Recent budget cuts on pensions and salaries shook the public and at the very same day the president of the country which is Serbia's main gas supplier pays a visit, gas prices are announced to go up starting November.
Serbian Prime Minister Aleksandar Vucic announced at a joint news conference with Putin that the Russian president accepted his plea and that Serbia would be granted a quota for export of cars into Russia.
This summer Russia stopped importing meat from Serbia and this was also one of the questions in the talks.
As for politics, Vucic said that Serbia is on its way to Europe and it will not step away from its path, adding how grateful Serbia was to the Russian Federation for it respect to the sovereign decision of Serbia.
Nikolic's style of generously sharing medals to various statesmen and others continued as he assigned the Medal of the Republic of Serbia of the First Order to the President of Russia, who after Belgrade went to Milan for the October 16-17 Western Europe-Asia Leaders Summit.
One could have much to resent regarding the celebration of liberation from the Nazis, but the only question that citizens of Serbia should be asking is whether it will be better after the established economic agreements.