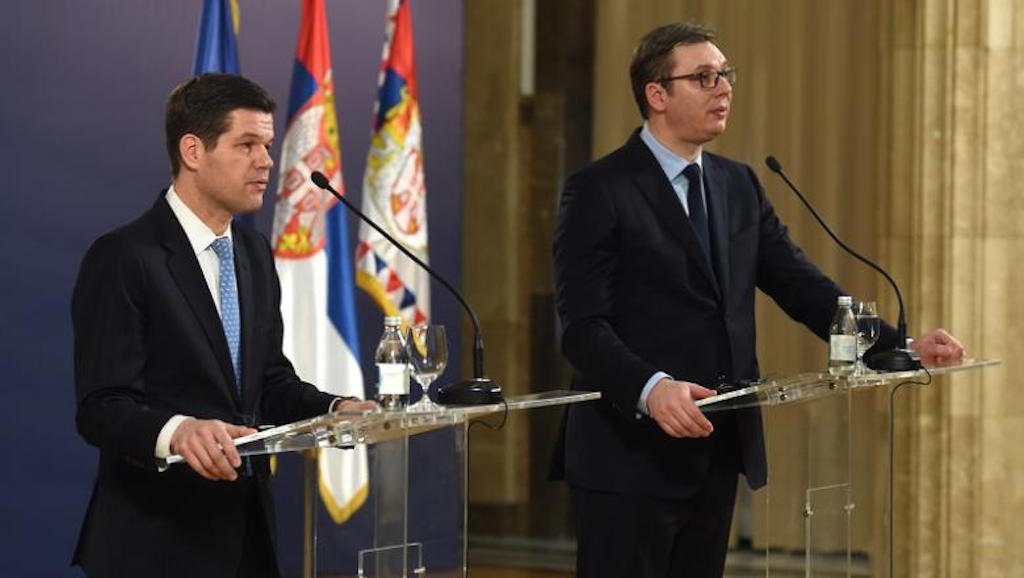 After meeting with Wess Mitchell, U.S. Secretary of State assistant, president Aleksandar Vucic said that Serbia and America have different positions on Kosovo and Metohija. Mitchell has "heard and perhaps understood what Serbia has to say", Vucic said at the joint press conference with Mitchell in Belgrade today.
Vucic said that, concerning the Kosovo issue, "Serbia can accept compromise, but not humiliation". Mitchell noted that the United States support the Belgrade-Pristina dialogue and appealed to both sides to implement their commitments.
"The situation with Kosovo and Metohija" is the biggest obstacle on the European path of Serbia, Vucic added; "therefore, Belgrade is ready to discuss possible compromise solutions." The Serbian president noticed that "each compromise is hard"; "but it should be accepted also by the second and third sides", he told the press, probably alluding to Pristina and the West, including the EU and the United States.
Vucic claimed that Serbia has implemented all its commitments of the 2013 Brussels agreement – judiciary reform, issue of police in the north of Kosovo- as well as its obligations regarding civil protection units and telecommunications.
On the other hand, the president said that he has told Mitchell he was almost convinced that Pristina would not implement the Brussels agreement with regard to creating the Community of Serb Municipalities.
When asked by reporters to comment on Mitchell's earlier remark according to which he allegedly supported Pristina's plan to create Kosovo's army, Vucic suggested that the foundation of such a military body would contradict international law.
At the same time, Mitchell said that Kosovo has the right to form its own professional forces which would deal with security, without posing a threat to Serbia and the Serbs. "Kosovo has the right to form its professional forces which would deal with security and which would also include Kosovo Serbs", the American diplomat said.
He added, however, that Kosovo should change its Constitution in order to create these forces…./IBNA