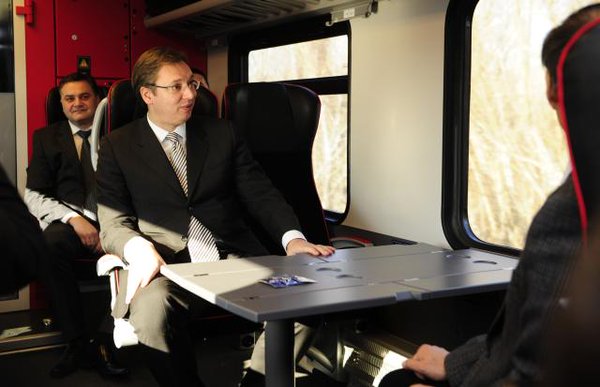 Belgrade, December 23, 2015/Independent Balkan News Agency
By Milos Mitrovic
In 2018 the new modern railway Belgrade-Budapest will be operational, Serbian Prime Minister Aleksandar Vucic said today. "This is very important for our country. Everything will be over in two and a half years", Vucic said in Novi Sad.
The modernisation of the existing railway would be financed in cooperation with China. The value of the project is EUR 1.1 bn. Vucic said that "shamefully" there have been no advancements in Serbian railways since 1884.
But this was the case until recently, he recalled. In previous years 120 kilometers of railroads were repaired, premier said. "In many places the trains are much faster now, and when we finish the Belgrade-Budapest rail, alongside with our Chinese friends and Hungarian partners, trains will move at a speed of 120 kilometers per hour in urban areas, and 180 km/h in open space", Vucic said.
He also thanked Russian railways for their contribution. "They are like a Swiss watch", Vucic said.
Chinese Ambassador Li Manchang read the message of his Prime Minister Li Keqiang who recalled that China's concrete cooperation with the Central and South-Eastern European countries reached a "historic level".
"We are convinced that the railroad would provide strong stimulus, improve the construction of infrastructure as well as living standard", Li said in the letter. The Chinese premier believes that the project would also contribute to Serbia's european integration, ambassador Manchang said.