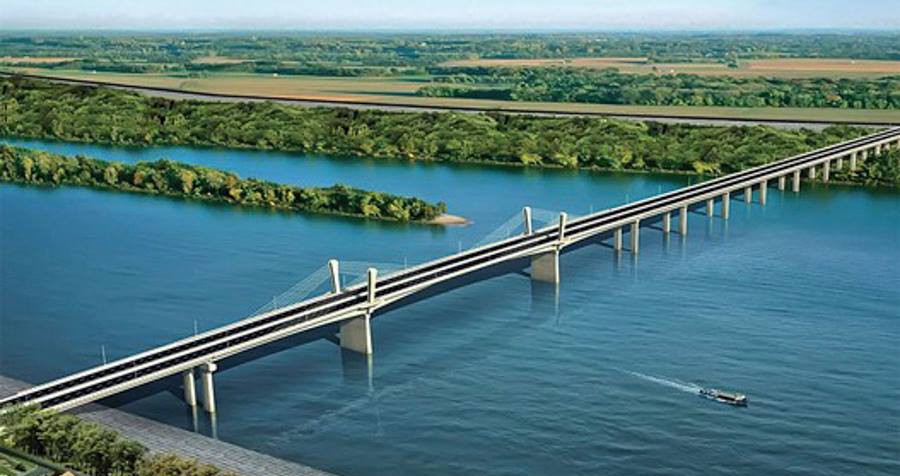 Belgrade, December 8, 2014/ Independent Balkan News Agency
By Milos Mitrovic
The construction of the Pupin Bridge over the Danube in Belgrade will be completed by the end of this year. The bridge named after Serbian famous scientist Mihajlo Pupin will be among the most important infrastructure projects in the country.
The realization of this Chinese investment started in 2011; the bridge will be long 1,5 kilometers and will be opened by the half of this month.
According to Radio-Television of Serbia (RTS), the bridge will be officially put into operation by Serbian Prime Minister Aleksandar Vucic and his Chinese counterpart Li Keqiang during next week's Belgrade summit of PR China and the leaders of South-Eastern European countries. China wants to invest in big infrastructure projects in Serbia, RTS reported today.
Rade Obradovic from Serbian Transport Ministry says that "the works (on the bridge) are practically over, but some details remained as well as decorations". Obradovic recalled that the construction will divert heavy trucks from the center of Belgrade. The roads that lead to the bridge are 22 kilometers long, he underlined adding that the Pupin bridge will be the longest in Serbian capital.
The summit of heads of Government of China and Central and Eastern European Countries will take place from 15 to 17 December. Li Keqiang will be the first Chinese PM to visit Belgrade since 1986. "Furthermore, business and official delegations of China and 16 Central and Eastern European Countries will participate in the Summit at the Palace of Serbia as well as in the debate about burning issues regarding agriculture, industry, tourism, Internet technology, transport and infrastructure in the Economic Forum", the organizers of the summit emphasized.
The meeting in Belgrade strives to provide the continuation of joint efforts to strengthen cooperation between China and the Central and Eastern European countries, that was first initiated three years ago in Budapest.
Croatian PM Zoran Milanovic decided not to attend the summit due to, from his point of view, Serbian failure to dissociate from hate speech of Vojislav Seselj, marginal out-parliamentary nationalistic group. Some Croatian analysts suggested that Milanovic's decision has been own goal for his country.