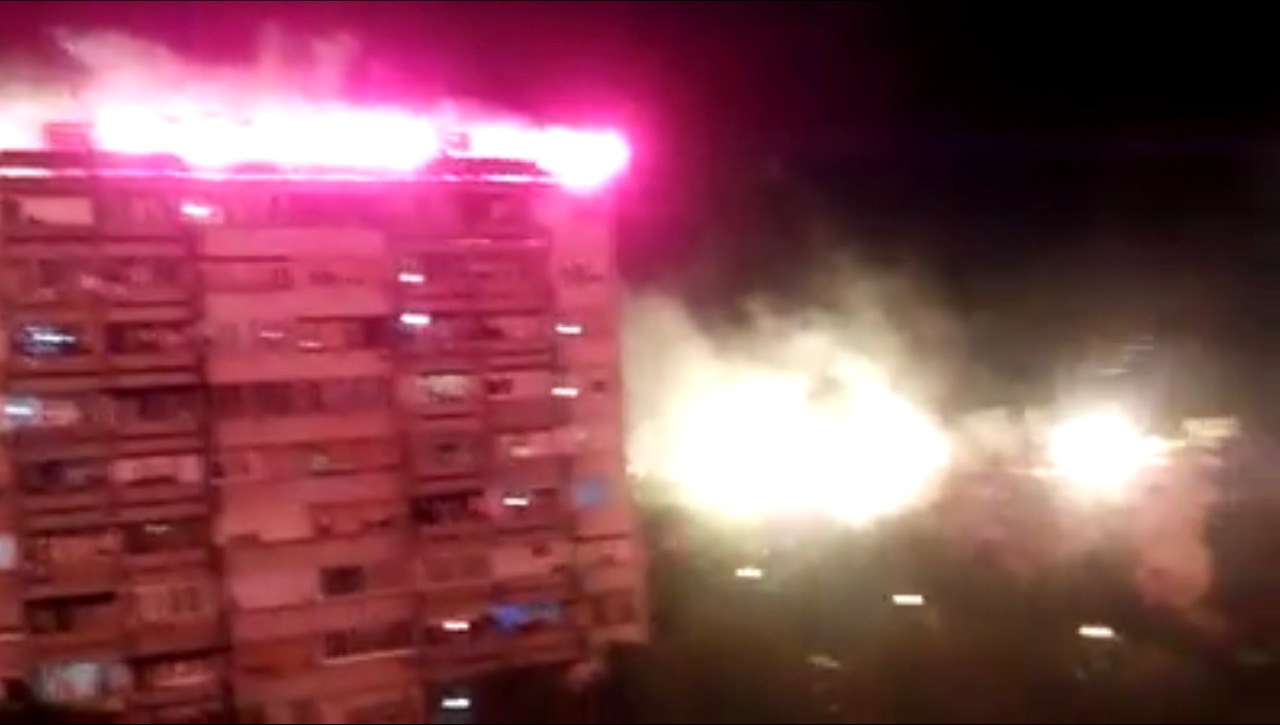 In half an hour from 20:00 to 20:30, three events of support and protesting took place last night in Belgrade. Support for doctors, protests against the government and again support for government policy.
In the protests, in addition to social media, whistles, crackers, naval pyrotechnics, percussion instruments, music and anything that could add to the tumult  was used in a peculiar war that took place form balconies and windows.
It was probably nobody's intention to overshadow the support towards the front-line doctors who have been fighting the coronavirus pandemic for a month and a half now, but it appears that this is what ended up happening. Although the applause was as loud as it usually is every night, the protests became even louder within the first five minutes.
The protesting by some citizens in various forms for four consecutive nights as part of the "Raise Your Voice: Against Dictatorship" campaign, launched by Let's Not Give Up Belgrade and the Citizens' Front, has spread to other Serbian cities.
However, there was yet another protest going on last night, which looked to be separated from the complaints that kicked off at 20:05 against the government, as it was the main opposition that was targeted, and especially one of the SzS leaders, Dragan Djilas.
This movement, which some of the citizens considered an organized protest, was set up by a specific association for the protection of the youth.
Last night's "Say it out loud, No" chant became viral on social media, with the union's Facebook page urging citizens to express "disagreement with those who used the coronavirus pandemic for political calculations", and to also oppose "those who demanded the coronavirus against Serbia".
Videos from the protests spread across the internet last night and, as expected, garnered reactions from politicians.
"For those people who started banging at 20:02, thus interrupting the applause for doctors and nurses, the political leaders are showing their irresponsibility. This is partly a political protest. I am a person who has faith in this profession; my job is to be a leader and a leader is not someone who follows everyone's wishes. It is my job to introduce the best measures for the people of Serbia, and it is not my job to listen to the majority, but to do what is best for my country. I have no problem with people booing me. I was inside the presidency when they surrounded the building", said Vucic during a guest appearance on RTS.
"I will listen to what the doctors have to say and not to those who find it difficult to stay at home. I don't want to succumb to people. You can say what you want against the measure, what we have achieved are facts and results that no one can deny", he stressed.
The main opposition party of Alliance for Serbia (SzS) also spoke out regarding the use of pyrotechnics, asking Interior Minister Nebojsa Stefanovic today if the MUP had given licenses to people to light torches last night in Belgrade, and if anyone of these individuals had been arrested for endangering the safety of citizens and violating the curfew. SzS claims that these individuals were mobilized by SNS. /ibna