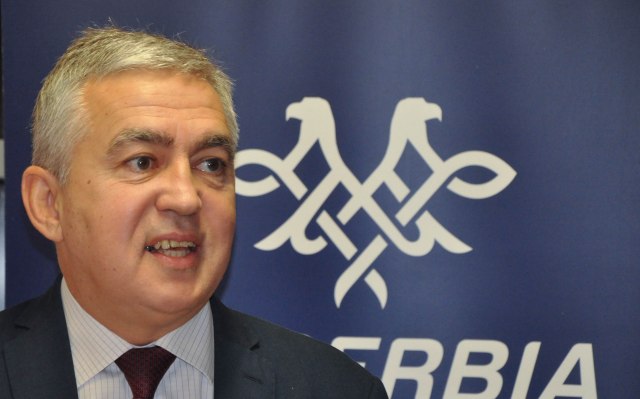 By Milos Mitrovic – Belgrade
Velimir Radosavljevic, head of the Belgrade "Nikola Tesla" Airport is arrested on suspicion of abusing his position and causing losses exceeding 2 million Euros to the company by concluding a contract containing favorable terms with "Wizz Air", a Hungarian low-cost airline. Belgrade police department for economic crime placed Radosavljevic today in detention of up to 48 hours.
In January 2010 Radosavljevic has concluded a memorandum of understanding with "Wizz Air" approving to this company the use of Belgrade airport services below cost, including a 20 percent travel tax discount, the Interior Ministry stated in the release adding that such conditions could not be offered to any company.
Such conditions for the use of airport services were introduced as an option by Serbian government; however, this has been done as late as December 2013, defining "specific criteria … which "Wizz Air" has failed to meet", the Ministry stated. Despite this, Hungarian company has used such option since June 2010, in accordance with the memorandum approved by Radosavljevic.
It was only in March 2011 that an agreement on airport services, which made the memorandum official and approved discounts on airport services and travel tax to the company for the duration of the contract, was signed, Tanjug agency reported.
At the same time "Wizz Air" spokesman Daniel de Carvalho rebuffed the claims of Serbian authorities on irregularities with regard to the contract between this company and Belgrade airport, FoNet news agency reported.
De Carvalho underlined that "Wizz Air" has increased the number of the passengers from Belgrade airport for more than 800 percents in 2010 – 2013; "at the same time the airport traffic increased for 31 percents which proves that "Wizz Air" takes the most of credits for such increase", spokesperson added.
"Unfortunately, Serbian passengers and foreign visitors are now witnessing that their options regarding the airlines are now reduced to only one expensive  carrier which is "Air Serbia" ", De Carvalho emphasized.
"Wizz Air" stressed that "ungrounded claims … are coming at the moment when both European Union assesses the contract between Serbia and "Etihad Airways" on foundation of "Air Serbia" and information on nontransparent state aid to "Air Serbia" appears", Hungarian company has stressed.