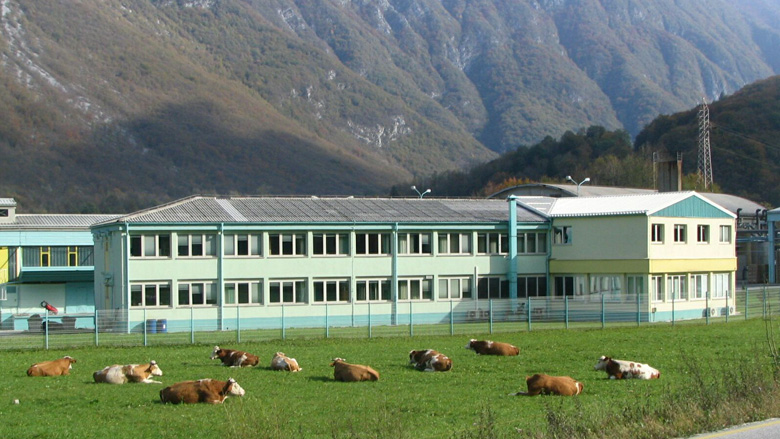 TKK Srpenica, a company acquired by Soudal Holding of Belgium in 2013, is building a new logistics centre in the western region of Posočje in what is its biggest investment in the past ten years. Director Uroš Lozar says the investment will allow the company to grow further.
Scheduled for completion by the end of the year, the logistics centre will be built on 7,000 square metres.
The EUR 6.5m-7m investment will be financed with the company's own funds it had accumulated in recent years.
"We will be able to use the current storage space for production. Plans to expand production are already being made," Lozar told the STA.
But the investment has also raised some dust among the locals, who have seen foams drifting from the construction site and into the pristine Soča river and raised alarm due to several industrial environmental catastrophes in the past few months.
The director has tried to assuage the fears, claiming that "the dirty and foamy waters are the result of the dirt and dust from cutting and washing of the asphalt".
Due to the plant's location near the Triglav National Park and the Soča, the company takes good care of the environment and is under constant observation from Bovec, whose Mayor Valter Mlekuž took interest in the latest development, Lozar added.
Meanwhile, the investment goes hand in hand with the growing number of orders and increasing revenues.
"Last year, we registered almost a 5% growth compared to 2015. Consolidated revenue amounted to EUR 54m and the bottom line increased by 30% compared to 2015," Lozar said.
This year the company expects to trump the 2016 revenue considerably, but does not want to forecast an increase in net profit due to rising costs of raw materials.
TKK Srpenica wants to double revenue to EUR 90m-100m by 2021 and plans on employing 80 new workers. Currently the company employs 210 workers.
However, the company is facing trouble finding new staff in Posočje: "Currently we have at least four vacancies we cannot fill."
TKK Srpenica opened its fifth subsidiary a year ago in Zagreb, Croatia. It is also present in Bosnia-Herzegovina, Serbia, Bulgaria and Russia./IBNA
Source: The Slovenia Times