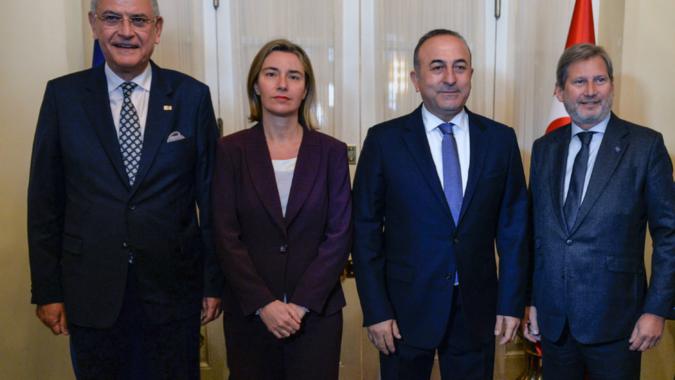 The meeting was full of surprises, but… not really. The role of Turkey is now known in Brussels and the two-hours discussions on a wide agenda would end up with wishes and nice words. "We need to see more than words", was the quote from High Representative F. Mogherini at the Press Conference followed the discussions and said it all…
Following the meeting that Presidents Jean-Claude Juncker, of the European Commission, Donald Tusk of the European Council and Antonio Tajani of the European Parliament had with President of Turkey, Recep Tayyip Erdoğan last May in Brussels, EU has continued to work together in the last months.
"We have decided to engage in frank, open and constructive conversations in various fields of our cooperation", said Federica Mogherini. "We held a Political Directors' meeting in Brussels in June, four Commissioners Christos Stylianides, Johannes Hahn, Violeta Bulc and Phil Hogan visited Turkey in the past few weeks, while several Turkish Ministers visited Brussels in the same period of time".
High Representative has on many occasions stressed the need to hold these exchanges, to listen and to talk to each other directly on all the shared interests and common challenges that the people of Turkey and of the European Union attach importance to.
"We often have said to each other what is important is discussing things directly in these dialogues more than talking about each other with the media and this is exactly what we are doing: engaging in an open, frank, constructive dialogue", she said.
The discussions held yesterday in Brussels, took place just a few days after Turkey held its first commemoration of last year's attempted coup which claimed the lives of hundreds of innocent civilians and left more than 2,000 people injured. "We reiterated the European Union's solidarity with all the Turkish people and with all the democratically elected institutions", F.Mogherini said.
As she explained, the meeting provided to both sides the opportunity to discuss issues very high on both of their agendas in a very comprehensive manner. The representatives spent many hours together. "Tthe rule of law, the right to a fair trial, due process, the freedom of expression and assembly, good neighbourly relations are key principles that Turkey has committed to not only as a candidate country but also as a member of the Council of Europe", she added. "We have witnessed a worrying pattern of imprisonments of a large number of members of the democratic opposition, journalists and human rights defenders in Turkey.  This is why today – as we have consistently done in the past – we stressed that our cooperation and dialogue need to be sustained by concrete, positive steps in the areas of rule of law and fundamental freedoms, as well as in bilateral relations with each of the European Union Member States".
Two sides also discussed how to enhance our cooperation in many fields in a constructive manner. The discussion was about the cooperation in the fields of energy, security, countering terrorism, migration management, our continued support to Turkey in its efforts in hosting a huge number of Syrian refugees, economic and trade relations, but also transport and agriculture – all fields where a positive agenda can be set up and is being set up in our bilateral relations.
The agenda included, also, foreign affairs. "We have a certain number of common priorities on which work has always been shared at our level and I would like to thank Minister Çavuşoğlu for this. Our contacts have been constant, especially on Syria, where our work to support the process in Geneva and to help the process in Astana delivering results on the ground has been coordinated", High Representative stated. "We also exchanged views on the Gulf crisis. We were both coming back from Kuwait and we discussed the need to have the fastest possible solution to these tensions. We also discussed the situation in Iraq after the liberation of Mosul.We shared views on the situation in Jerusalem, in the West Bank and in Gaza, reaffirming our strong believe that the two-state solution is the only viable option and the need to have a special attention to the situation in Jerusalem in these days, hoping that the Israeli authorities and the Jordanian ones will also work closely together to guarantee a sustainable context in Jerusalem in these hours".
This wide range of areas of cooperation in the field of foreign and regional policy is a clear reflection of the many shared interests and common challenges for both EU and Turkey. "There is a willingness to continue to work with Turkey – a secure, economically vibrant and democratic Turkey. And today, we discussed precisely how we can collectively take our work forward to the benefit of all our citizens", they admitted.
"Many of our colleagues focus more on the red lines, I prefer to focus on what we have in common, and I think the dialogue today was helpful for sure in one respect which is that we identified common priorities on which we can usefully work together and this is not to be underestimated. Because our agenda is complex and we need to work together in a cooperative matter with Turkey, with others, this is the European approach", Mogherini stated at the Press Conference. "In this respect, as both myself and Commissioner Hahn have made very clear, also with you; we have raised what is very important for us, which is not so much to hear during our dialogues but to see concrete steps in the fields of rule of law, human rights, democracy, media freedom, the protection of human rights defenders, opposition leaders and so on and so forth. So, I would tend to focus more on the actions that we expect rather than on the words that we can exchange. But the dialogue was – as you can see – very open but also very productive. As you journalists would define it: "frank and constructive", but positive I think".
As she said, Turkey is at the same time a candidate country and a strategic partner for the European Union with fields for positive cooperative common work, and fields where we are facing difficult or different opinions and different positions.
"It is not only for the Cyprus issue, that was unfortunately not solved during negotiations this month under the UN auspices; but I can say that I was present in Switzerland during the beginning of the last phase of negotiations and I have hopefully tried to accompany the process in the best positive manner. Unfortunately, distances were too big to be bridged this time but we remain hopeful that a solution to the Cyprus issue can be found at a certain moment", she claimed. "But it is not only the Cyprus issue that makes it difficult in this moment to imagine the opening of further chapters".
About the attempted coup in Turkey, EU representative was asked if member states would re-evaluate their stances against this group and its activities across Europe. "Not for the moment. This assessment is normally initiated by one or more Member States and conducted by unanimity of Member States. I do not see this happening in this moment", Mogherini added.
To conclude, she made 3 points: "One, Mevlüt, you said it: the European Union Member States showed solidarity. This is a good thing, because actually we are called European Union and as a family we take decisions together, we stand together and in difficult and less difficult times. This is why it is so important that every single Member State develops good bilateral relations with Turkey and vice-versa. This is the healthy basis for an overall positive, constructive cooperation between the European Union and Turkey as a whole", High Representative concluded. Second point, you said it, Mevlüt, I appreciated it. Amnesty International is a serious, respected organisation. As such, for what concerns the European Union, we value their work enormously everywhere in the world as well as we value the work of the human rights defenders everywhere in the world. They can count on the European Union everywhere in the world to support their daily and difficult work. Last but not least, also for us the deals we sign are respected also because if we had to change mind with the weather, being based in Brussels would be a serious problem", concluded High Representative./ΙΒΝΑ