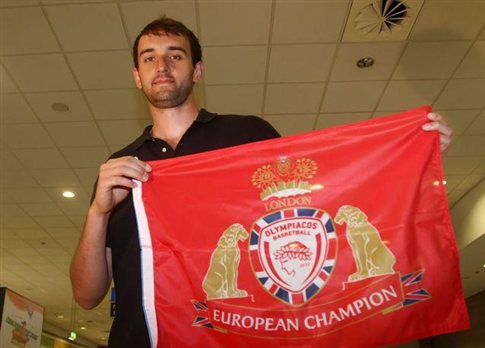 By Christos T. Panagopoulos
Slovenian 28-year-old basketball player, Mirza Begić, arrived in Athens on Sunday afternoon and today is expected to sign a two-year contract with Olympiakos Piraieus, according to Greek sports media.
Begić, a former player of Real Madrid, expressed his satisfaction as well as his pride about his new team. "I can't wait to help my team. At this time of my career, this was the best thing to happen to me", he said arriving at the International Airport "Eleftherios Venizelos".
He didn't miss the chance to refer to his new co-player, Vassilis Spanoulis: "He's a great player and I hope we'll have a good cooperation in game as well as out of it. It was Spanoulis that killed us in the finals, he played a major role for Olympiakos's victory".
The 28-year-old center, was set free to leave the Spanish team, after Real Madrid had acquired Greek player, Yannis Bouroussis, and Begić refused a cut in its annual gains.
Mirza Begić was born in Bijeljina, a town in Bosnia-Herzegovina but he has a Slovenian citizenship. He has been playing for Real Madrid for the last two years.
You may also read:
Olympiacos BC "hunts" Begić, Tuesday, 16 July 2013