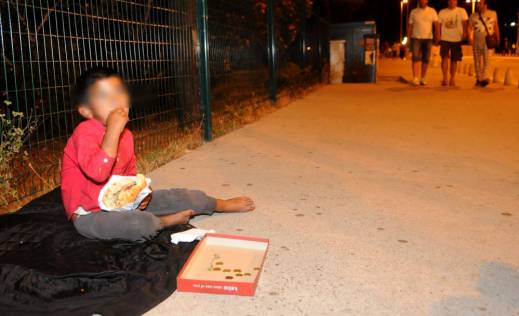 By Adnan Prekic – Podgorica
The low standard of living and the growing problem of poverty are the reasons for the increased number of beggars on the streets. Begging has recently become more and more organized, which results in human trafficking. During 2013 56 children were apprehended by the police for begging, with 6 juveniles already apprehended in 2014. Police has filed 22 requests for legal proceedings for incitement for begging.
Begging on the street is just an introduction to every other form of crime of human trafficking. On the streets of Montenegro the most common beggars are children without parental care, who represent the most vulnerable group in society. Begging is increasingly organized by individuals or organized crime groups with the targets usually being the most vulnerable sectors of society. Victims are often children and young women, and the organizers have a strategy that is designed to gain the trust of potential victims and to scams them. Begging becomes a prelude to other problems such as prostitution, illegal employment, homelessness and human trafficking.
The montenegrin research office to combat trafficking in human beings have shown that the most common children beggars on the streets are of Roma nationality and are mostly refugees from neighboring countries. According to the same survey they are often the victims of sexual exploitation and abuse. They live in conditions of extreme poverty, very low standards, particularly in terms of health and hygiene. Very often they do not have documents, health insurance and are uneducated, factors that affects the state's ability to prevent begging.
The key problem remains the inclusion of children begging on the streets in the educational process. However, it is impossible without the support of their parents, who do not want their children to go to school and are forcing them to beg on the streets. Roma children do not see begging as a form of exploitation, but see it as a way to help their parents to survive. A child in a day begging on the street makes ​​from 30 to 50 euros. Parents therefore show some resistance to sheltering children from the streets.
Non-governmental organizations in Montenegro warn that the resolution of this problem must involve the whole society. In this sense, they argue that it is important to organize a campaign which sends messages to not give money to children on the street. By giving money to children on the streets the people support their way of life and whats more, creates the preconditions for other illegal activity.