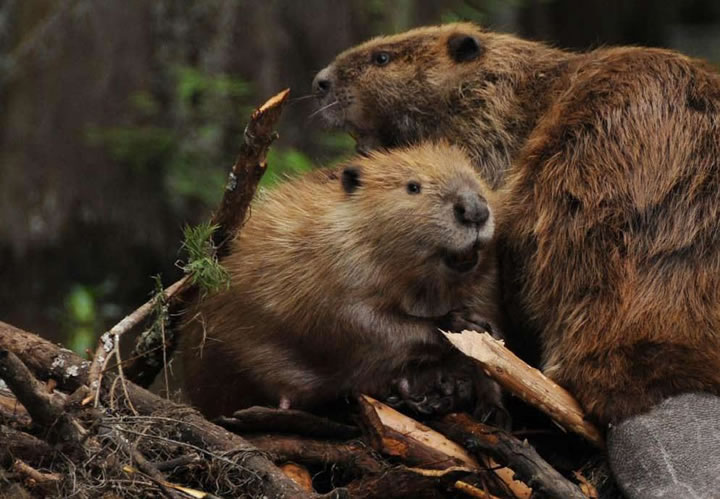 By Daniel Stroe – Bucharest
The beaver has returned to the Danube Delta after an absence of almost two centuries, following a reinsertion project started 16 years ago on several rivers in the country where beavers later migrated from to the east, WWF Romania yesterday announced on its website.
The organization posted videos (https://www.youtube.com/watch?v=dRPUj9OZFHE) taken by five infrared cameras placed in the Somova-Parches lacustrian complex, confirming beavers' presence in the Danube Delta. Monitoring beavers in this area started in April upon a recommendation from the Danube Delta Administration and in cooperation with a forest institute in Brasov, central Romania.
The European beaver, now a strictly protected species, disappeared from Romania and most of Europe early 19th century due to excessive hunting, wanted for their fur and fat oil used in making perfumes, and change of habitat. In Romania, the reinsertion project started in 1998, initiated by a forest research institute in Brasov, and included rivers Olt, Mures and Ialomita. 12 years later, beavers migrated to the upper delta without any human intervention, WWF says, adding beavers' return happens amid a wider phenomenon of other 36 species of mammals going back to their initial habitat all across Europe.
"If we learn from nature the important less of beaver's return to the delta we will truly be successful in preserving. This species called the eco-systems engineer for its ingenuity in building a habitat mosaic which retain water and expand the humid areas so necessary in the current circumstances of climate changes", said Alexandra Panait, project coordinator for the Danube Delta at Rewilding Europe, an organization which seeks to preserve and expand natural habitats in six regions in Europe, among which the Danube Delta and the Southern Carpathians in Romania.
Both WWF Romania and Rewilding Europe encourage local entrepreneurs in the Danube Delta to value nature and responsibly live off it. One of the opportunities for them is to develop tourism offers based on birds watching since the area hosts more than 300 such species. The two organizations deployed a similar project in the Tarcau Mountains where 17 European bisons were reinserted in a natural environment, giving the area a tourism potential.
The news comes as tourism is developing in the Danube Delta, after a 20% growth last year. Last month, a Romanian airliner opened the first direct routes to the Danube Delta from Bucharest and two other cities in the West, Bologna and Frankfurt, which are expected to increase the number of foreign tourists visiting the second largest delta in Europe.