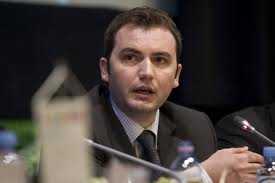 Skopje, June 3, 2013
The spokesman of the Democratic Union for Integration (BDI), Bujar Osmani declared today that Albanian ministers didn't travel to Belgrade to participate in the joint meeting between the governments of FYROM and Serbia for objective reasons.
"Several of the ministers didn't travel to Belgrade for objective reasons, but I hope that in the future meetings with the governments of Albania, Kosovo and Bulgaria, depending on the topics being discussed, more ministers will be present", declared Osmani, in his diplomatic response to the media. According to him, ministers of the cabinet that cover several of the topics of the day have traveled to Belgrade.
Nonetheless, the meeting in Belgrade is discussing issues that relate to the Ministry of Economy, which is led by Valon Saranici and the Ministry of Environment, which is led by Abdulamiq Ademi, represented by the respective vice ministers. /ibna/