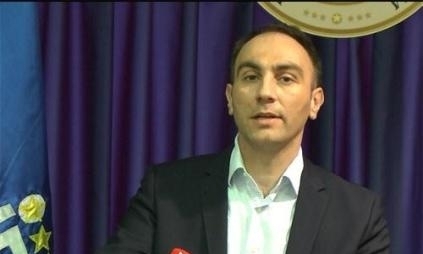 Skopje, July 8, 2013
Democratic Union for Integration (BDI) has responded today to the Prime Minister and leader of VMRO-DPMNE party, Nikola Gruevski about his declarations relating to the relations between coalition partners.
Artan Grubi, head of cabinet of the leader of BDI, Ali Ahmeti declared today that in spite of the disagreements with the coalition partner, BDI remains a legitimate representative of the Albanians of FYR Macedonia in the government and as such, it cannot leave the governing coalition.
"We're part of the government as a result of the last parliamentary elections, where BDI gained absolute trust of the Albanian community in FYROM, therefore we are committed in realizing the program which had the trust of the population in these elections. I believe that all differences may be overcome through compromise and dialogue, but I must stress that BDI and VMRO are there as representatives of two state forming states in FYROM", said Grubi.
Commenting rumors about early elections, which would be in favor of the Prime Minister's party, VMRO-DPMNE, Artan Grupi said that BDI has never been interested on early elections.
"The elections do not resolve open issues, starting from the name and integrations. Not only this, but BDI believes that this period where Greece and FYROM have not yet come up with a solution, is the best moment to work in order to resolve the name dispute issue", underlined Grubi. These reactions come after Gruevski said during an interview for a Macedonian portal that the relations within the government with BDI of Ali Ahmeti are not optimal. /ibna/