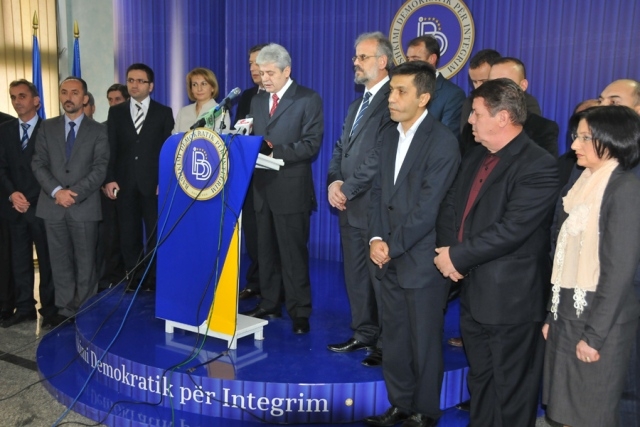 Skopje, 4 April 2016/Independent Balkan News Agency
By Naser Pajaziti
BDI (Democratic Union for Integration) published last night the list of proposals for the new ministers and vice ministers who are expected to be voted today in parliament. According to an official statement of BDI, the cause for the departure of the Albanian ministers from the government related to the publication of several telephone conversations involving officials of this party.
The Albanian party led by Ali Ahmeti considered these materials as manipulated and demanded from the institutions of the country to take urgent measures to arrest the manipulators.
Last week, BDI's steering committee authorized Ahmeti to decide on the party's future policies, but also on the changes and proposals in the government.
Today parliament will vote on the resignation of the current ministers from the ranks of BDI and the voting of new proposals who will be part of the interim government which is led by interim PM, Emil Dimitriev.
This government is supposed to organize free and democratic elections and it was a product of the June 2 agreement for the solution of the political parties.
List of proposals:
1-Secretariat for the Implementation of the Ohrid Agreement, Festim Halili
2-Secretariat for European Affairs, Arber Ademi
3-Ministry of Justice. Valdet Xhaferi
4-Ministry of Education and Science-Pishtar Lutfiu
5-Ministry of Economy, Driton Kuci
6-Ministry of Environment, Bashkim Ahmeti
7-Ministry of Local Government, Shyhrete Elezi
8-Ministry without Portfolio for Foreign Investments, Arlind Zeqiri
Vice ministers
9-Ministry of Interior, Agim Nuhiu
10-Ministry of Transport and Communication, Faton Pollozhani
11-Minister of Finance, Gezim Beadini
12-Ministry of Defence, Bekim Maksuti