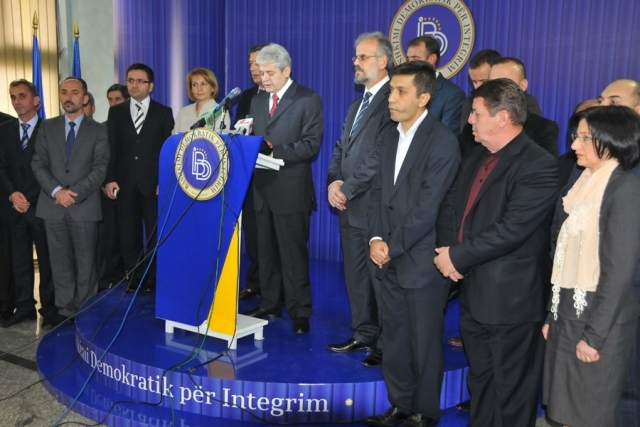 In circumstances when the second biggest government party initiates the dissolution of Parliament, this will lead to the overthrow of the government which it's part of and the holding of early elections
Skopje, February 27, 2014/Independent Balkan News Agency
By Naser Pajaziti
The steering committee of the biggest Albanian party, Democratic Union for Integration (BDI) decided this afternoon (27.02) to file for the dissolution of Parliament.
This decision follows the failure in reaching an agreement with the coalition party, the biggest Macedonian party, VMRO-DPMNE to race in the presidential elections with a joint consensual candidate which would be acceptable for both big communities, Macedonian and Albanian.
The general secretary of this party, Abdilaqim Ademi said today that there will be an urgent procedure to file for the dissolution of parliament.
"BDI decided not to run with its candidate in the presidential elections and this way, it invites Albanians not to invite any of the candidates, because we would give a fake legitimacy to the next president of the country. We have also decided for our parliamentary group to hand in to parliament the incentive for the dissolution of this legislature and the holding of early parliamentary elections", said Ademi.
He said that BDI invites all parliamentary groups to join this incentive and to support the proposal for the approval of the decision for the dissolution of this legislature. BDI also calls on all political, state factors and the citizens to offer their contribution to hold free and democratic elections in order to show that "we're capable to hold normal elections".
On the other hand, the second biggest Albanian party, Albanian Democratic Party (PDSH) in opposition, will participate in the presidential elections and has appointed Iljaz Halimi as its candidate. From today, this party has decided to collect 10 thousand signatures in order to formalize the nomination at the Central Election Commission.
Meanwhile, the two big Macedonian parties, VMRO-DPMNE in power and LSDM in opposition are expected to formalize their presidential nominees in the days to come.
So far, three are the nominees proposed by the Macedonian party in power and amogst them, the current president, George Ivanov is the favorite.
Meanwhile, opposition has also chosen a candidate and he's university professor, Stevo Pendarovski, who is also expected to be voted in the convention of this party on March 24. /ibna/