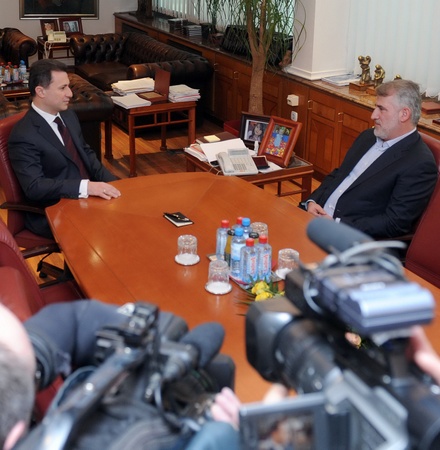 When the Democratic Union for Integration (BDI) demanded from Gruevski to come out with a consensual presidential candidate, this demand was considered as unacceptable. BDI reacted by announcing the boycott of the presidential elections. The government decided to announce early parliamentary elections. Explaining the decision, Gruevski said that the government cannot be held to ransom by Albanians in coalition. Therefore, he urged voters to massively vote VMRO-DPMNE in order for this party to win a sufficient number of seats and not to be obliged to enter a coalition with BDI, which up until now, it's the biggest political party of Albanians in FYR Macedonia
Skopje, April 16, 2014/Independent Balkan News Agency
Prime minister Nikola Gruevski, who is the leader of VMRO-DPMNE met today with the leader of the Albanian opposition party PDSH (Albanian Democratic Party), Menduh Thaci.
The leaders of these two parties have avoided declarations for the media, while the head offices of the two parties have not commented it either.
Sources from this meeting said that the discussions have focused on the possibility of cooperation in the second round of presidential elections.
Gruevski's request has been for Thaci's PDSH to support George Ivanov, the VMRO-DPMNE candidate who is also the current president.
According to the same sources that pro government media in Skopje quote, Mr. Thaci has complained to Gruevski on the threats, pressure and terror exerted on Albanian citizens who have voted in the presidential elections.
The prime minister has secured the leader of PDSH that during the parliamentary elections, all state institutions will function with their full capacities in order to prevent frauds and violations.
Thaci has demanded responsibility from the prime minister for the early parliamentary elections in order not to jeopardize the democratic process in the April 27 elections. Meanwhile, none of the two parties offer details on this meeting. /ibna/