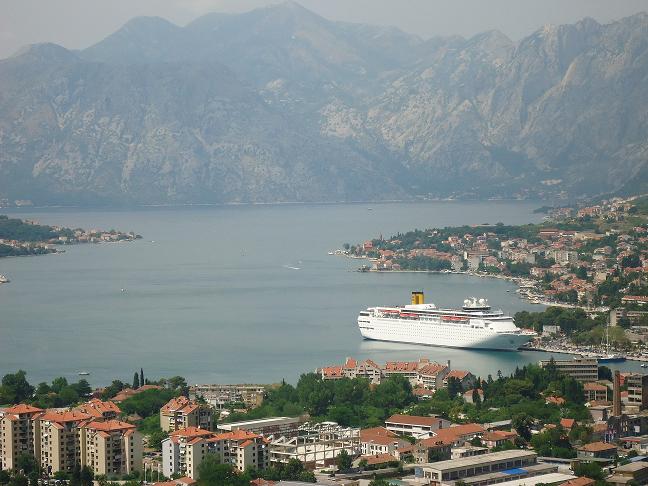 By Adnan Prekic – Podgorica
Cruise tourism in recent years is becoming an increasingly important segment of the tourism of Montenegro. The bay of Boka Kotorska for years has been a must go destination for all cruise ships that cruise the Mediterranean. This year Montenegro is expecting about 400,000 tourists. Cruise tourists significantly affect the extension of the tourist season because large ships are coming to Montenegro from April to October.
On the Montenegrin coast everything is ready for the summer tourist season, which for months is announced by cruisers that from April are regularly sailing in the port of Kotor. This town during the season is expecting more than 400 thousand tourists a day, with the cruisers who land into the harbor and also tourists from Dubrovnik and Budva. The Bay of Kotor and the town of Kotor are largely interesting for cruise companies because of its outstanding natural and cultural heritage.
Most guests who came on cruisers last year were from the U.S. (22%), Great Britain (21%), Canada (11%), Germany (8%), Australia (3%), and from other countries (35%), which include tourists from France, Belgium, Spain, Russia, Scotland, Holland, Japan. Most guests, 42.5 %, were older than 60 years, 36.75% of them were between 40-60 years old, and 16.75% 25-40 years, and 4% of tourists was up to 25 years. Guests from the cruise ship on average remain in Kotor for six hours. Based on a survey of local tourism organizations, tourists from cruise ships on average spend 46 euros for trips, 17 euros on local transport, 22 euros for food and drink in restaurants, 65 euros on shopping, and 6 euros on tickets.
The port of Kotor is currently the only port which attracts big cruisers. This could soon change however, since the port of Bar is offering very good conditions for cruise tourism. From this port, which is able to accommodate the largest cruise ships, they have repeatedly tried to enter into contracts with agents but till now they didn't make any progress. The aim is to promote the Port of Bar as a port for cruise ships since it has the potential to accommodate at least 1,500 people simultaneously. Almost all the Western Balkan countries could board on the cruise ship through Bar, much easier and cheaper than via Savona, Genoa and Barcelona, which are the main starting point of the cruise. The arrival of cruise ships in the port of Bar would be of great importance for the economy of the whole town, because with minimal cost, the benefits would be felt through the whole chain of caterers and service providers.