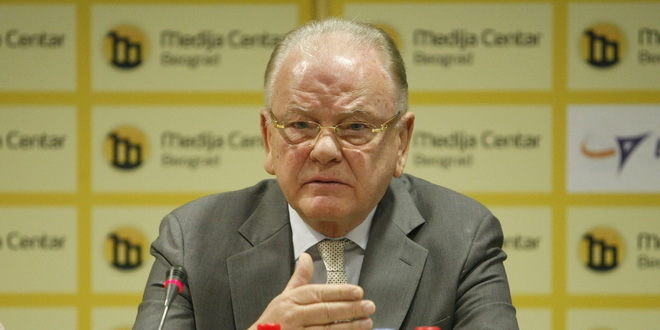 Dusko Vujosevic, Serbian basketball coach, the most successful Partizan Belgrade trainer in club's history, decided to support former ombudsman Sasa Jankovic in his presidential bid. Vujosevic explained his move is a reaction to pro-government media attacks against another famous coach – Dusan Ivkovic (photo), one of the 50 Greatest Euroleague Contributors, who became a target because of his active support to Jankovic.
"I am deeply revolted over attacks against Dusan Duda Ivkovic because of his support to Sasa Jankovic", Dusko Vujosevic said.
Vujosevic told Blic daily that he decided to back Jankovic because he wants "the victory of reason over the dark of slavery" and anathematizes those who support opposition nominees not to be repeated. "I appeal on the courage of all citizens to stand behind their political stance and support a candidate who has demonstrated his moral strength, consistency and grit", Vujosevic said.
On Wednesday Ivkovic held a press conference over attacks against him.
"There are two  reasons why have I decided to support Jankovic. The first is in the statement by our prime minister Vucic (Aleksandar) that he does not want any kind of cohabitation in the case he loses the elections, because he cannot accept anyone 'nagging' him", Ivkovic said alluding to Vucic's words.
PM Vucic is the ruling party's presidential nominee for the April elections. Despite consistently rebuffing reports on his bid in 2016, he accepted nomination preventing, in the meantime, incumbent Tomislav Nikolic to rerun. During the period of denying his bid, Vucic was stressing he does not want president who would "nag".
Ivkovic characterized Vucic's rule as a dictatorship. "The second reason to support Jankovic is my belief that people trust him", he went on.
Considering pro-Vucic tabloids defamations against him, Ivkovic said: "Is it possible anyone who has a slightly different opinion from the regime to appear and not be shown as the worst citizen of this country, deceiver, manipulator?"/IBNA