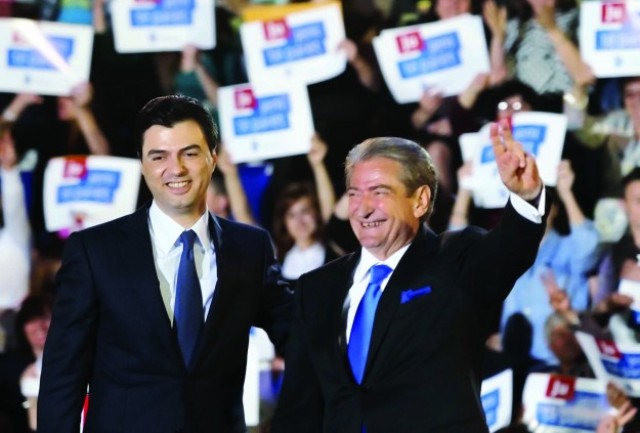 Tirana, July 3, 2013
After Sokol Olldashi registered his candidacy for leader of the Democratic Party, another personality of the political class, mayor Lulzim Basha has handed in his application to be part of this race.
During his speech, Basha said that, "Dear members and militants of the Democratic Party, voters of the DP. A week ago from this podium, the leader of the DP, Prime Minister Sali Berisha addressed to democrats and Albanian people with a message. This has been a period of reflection. I have heard and felt commotion, disappointment and exasperation about the result that nobody expected. I have read in your eyes the strength to face future challenges, to start with hope and trust the path to once again becoming a majority. Today the democrat family must be more united than ever".
Basha said that after a long reflection, after thousands of messages by members of the Democratic Party and after talking to Prime Minister Sali Berisha, he decided to run for the head of the DP.
Basha considered this as one of the most difficult decisions of his life. He said that the Democratic Party is a party that has changed history of the new Albania.
According to Basha, nobody can replace Sali Berisha, considering him as the historical leader and a source of inspiration for democrats.
Basha said that the challenge that awaits democrats is not easy, but stressed that the Democratic Party has turned the dreams of the Albanian people into projects and projects into reality.
Basha declared that his effort to lead this new start is strongly supported by the vision, by the courage of predecessors, by the determination of Azem Hajdari and leadership of Sali Berisha.
"Based on today's convictions and values, I invite you to move forward toward the project of our new beginning. DP will carry out a thorough analysis. I will work hard for the Democratic Party to turn into a strong opposition and to defend the rights of citizens, against arbitrariness and abuse with power. Negativism has no place in this race, because this race aims the victory of the Democratic Party. 8 years ago, united, the Democratic Party managed to win the elections and to make the biggest transformation in the history of the country. Two years ago we won the battle of Tirana. I assure the citizens of Tirana that my commitment will not be lacking. Let us make a new beginning, aware of the challenges that await us to win the hearts of the Albanians and to bring the Democratic Party back in government", said Basha. /ibna/