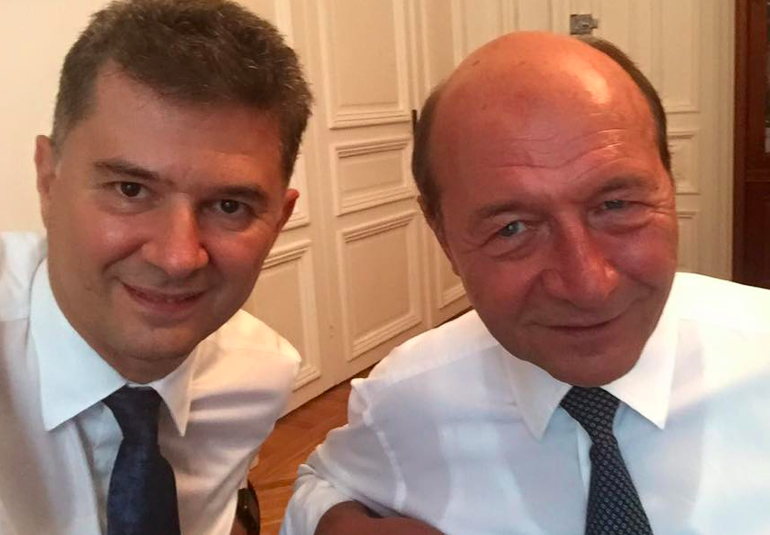 Bucharest, July 21, 2016/Independent Balkan News Agency
The merger between the People's Movement Party (PMP) and the National Union for Romania's Progress (UNPR) will generate a third political force alongside the Social Democratic Party (PSD) and the National Liberal Party (PNL), which will lead to strengthening the democratic capacity of Parliament, PMP Chairman Traian Basescu said on Wednesday.
"Following our decisions of today, a third political force emerges, significant in the territory and that has chances to get a very good score in the legislative election. This will mean strengthening the democratic capacity of Romania's Parliament, because decisions will no longer be played between the PNL and PSD headquarters in Modrogan and Kiseleff streets, but decisions will have to pass also through PMP's premises in Nicolae Iorga Street," Basescu said after the vote of merger through absorption of UNPR with PMP given in the joint extraordinary Congresses of the two parties.
According to the PMP Chair, the merger led to a series of "pragmatic results".
"PMP thus got 1,320 local councilors, UNPR got 1,200 local councilors, meaning that together we exceeded the number of 2,500 local councilors; PMP also won 18 seats of mayor, UNPR won 26 mayors, so together we have 44 mayors; PMP obtained 37 county councilors, UNPR — 14, so together have 51 councilors county. And, finally, in terms of county council vice presidents, PMP has seven of them and together with UNPR we will have eight vice presidents," he explained.
As main goals of the new PMP, Basescu mentioned supporting in Parliament a new law on healthcare, measures to reform education, maintaining the proposal to amend the legislation on the introduction of bans on wood cutting for a period enabling forest restoration, the union with the Republic of Moldova and the development of the defence industry by supporting a budget of 2.2pct of GDP in 2017 for the Defence Ministry.
In his turn, UNPR Chair Valeriu Steriu said that by the merger with PMP "a modern political pole" is created, which will lead to a strong party capable of obtaining hundreds of thousands of votes in parliamentary elections, votes that will reflect in measures for a better life for Romanians.
Steriu characterized the political understanding reached with Basescu as "a very smart start".
Source: Agepres
Photo: nineoclock.ro