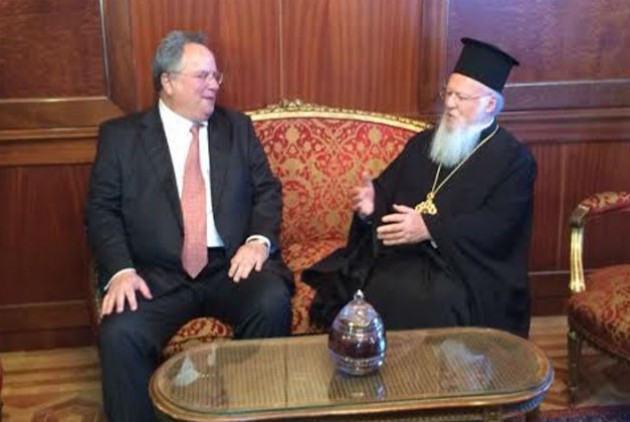 Athens, June 17, 2016/Independent Balkan News Agency
By Spiros Sideris
Messages of unity of the Orthodox Churches sent on Thursday evening from Chania the Ecumenical Patriarch Bartholomew and Foreign Minister Nikos Kotzias, speaking to the attendees at the formal dinner hosted by the later to the Primates of the Orthodox Churches who are in town for the Holy and Great Synod of the Orthodox Church.
Mr Bartholomew particularly mentioned the role of the Orthodox Church, which he featured as the ark of the Christian tradition, noting that "therefore the coming Holy Synod is important as it allows expression of the voice of Orthodoxy with a message of strong faith , sacrifice, hope and peaceful reconciliation towards the torn world".
The Ecumenical Patriarch referred to the problems many Orthodox churches are facing, and the importance of the Great and Holy Synod, saying that "we believe and we hope that the commencing Holy Synod will contribute decisively to the unity and the global projection of the message of Orthodoxy, which is not a political construct, a philosophical belief, but the truth of salvation revealed in earthly and eternal life".
Closing his opening speech, Mr Bartholomew thanked the Greek government for its contribution to the realization of the Holy Synod, wished Prime Minister Alexis Tsipras and the members of the government health and strength, in order, as he said, "to contribute to the unity and concord in tackling this transitory crisis, in order for this creative people to continue its peaceful coexistence".
The Ecumenical Patriarch and Primate of Churches were welcomed by Foreign Minister Nikos Kotzias.
He spoke warmly about the role of the Orthodox Church, noting that "seculars and Church form a common fraternal pole in this common course, which rests on the great values of the church".
Referring to the Holy Synod, he said that "we believe that this great meeting of Orthodoxy will give hope to heal sorrows and to enable citizens to see with hope the Orthodox church, to understand its meaning".
Mr Kotzias emphasized the need for Church and State to work for the dissemination of human values and referred to the Church as the "maximum interlocutor for spirituality and spiritual quest, but also great support for the social work we all must perform".
In his address, the Foreign Minister stressed the need for unity of the Orthodox Church.