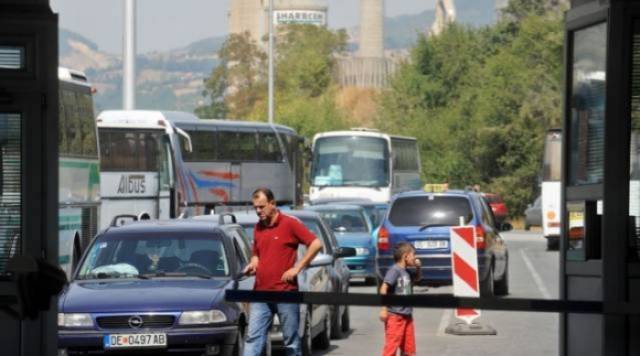 IBNA Special Report
Pristina, November 10, 2014/Independent Balkan News Agency
By Elton Tota
The Balkan mini Schengen, as an idea launched by the former president of Kosovo, Fatmir Sejdiu, is not becoming a reality. This, due to the fact that Kosovo and FYROM have not yet signed an agreement for free movement of the respective citizens with the use of ID cards alone.
Citizens of both countries see movement with passports as an unnecessary barrier, which causes headaches while traveling to Pristina or Skopje.
Liridona Islami from Skopje told IBNA that the gridlocks in the liberalization of free movement between the two countries seems absurd.
"My uncles are in Pristina and every time I go there to visit, police of Kosovo puts a stamp on my passport. This seems an unnecessary barrier because my passport has been filled with stamps and I must get a new one. This costs money. Politicians of both countries seem hypocritical, as they talk about integration, while they do nothing to facilitate free movement between citizens of both countries", says she.
Arben Kosumi from Pristina, told IBNA that he often goes to Skopje during the weekend to do shopping or to simply spend an afternoon there with friends, but he says that his passport is filled with stamps and he must get a new one.
He complains that passport checks cause long queues in the border crossing point of Bllaca.
Meanwhile, on Sunday, leader of the Democratic Union for Integration, Ali Ahmeti and ambassador of Kosovo to FYROM, Ylber Hysa have talked about cooperation between Pristina and Skopje and concrete projects that would bring the citizens even closer.
Leader Ahmeti spoke about the importance of the road linking Skopje to Bllaca, the crossing of the border through ID cards, but also the introduction of joint border crossing and customs points and the holding of joint government meetings.
Ambassador Hysa declared that the citizens of Kosovo are interested to facilitate movement toward FYROM through the use of ID cards alone.
"Kosovo authorities are interested to sign as soon as possible the agreement which would allow crossing of the border with ID cards and welcomes the plan of the government of Macedonia to build the road linking Skopje to Bllaca with the hope for the works to start as soon as possible", declared ambassador Hysa.
He added that close political and economic relations with Kosovo must boost up through the implementation of current bilateral agreements, but also by signing new agreements.
Meanwhile, the spokesman of FYROM's Ministry of Interior, Ivo Kotevski said that no date has been set when this concession for the citizens will be made.
Kotevski said that once the majority of the citizens of Kosovo are equipped with biometric ID cards, joint work groups will be formed in order to assess the conditions and then set a date when circulation of the citizens in these two states through the use of ID cards will start.
He mentions the fact that the movement of the citizens of FYROM to Albania and Serbia with the use of ID cards as been made two to three years after citizens in FYROM were equipped with biometric ID cards.
FYROM has signed such agreement with Albania, Serbia and Montenegro.
According to the authorities in the country, movement with identity cards has not only facilitated circulation, but it has also had a positive impact in the cooperation in economy and tourism. /ibna/