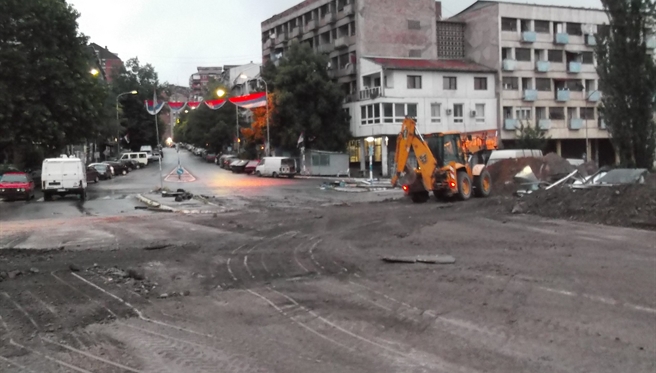 Pristina, June 18, 2014/Independent Balkan News Agency
By Elton Tota
The barricade on the main bridge over Iber river in Mitrovica, installed there three years ago by Serb parallel structures of the north, has been lifted today at around 5 am.
The operation to lift the barricade, which was installed there by the so called "guardians of the bridge" and lifted by the same ones, has lasted four hours, while no incident was registered.
Lots of forces from the police of Kosovo and Italian carabinieri have participated in this operation and they didn't allow anybody to approach the bridge.
The citizens of Mitrovica have rejoiced over the lifting of this barricade, which for years in a row has prevented free movement in this region.
Nita Nishliu from Mitrovica lives close to the Serb commune in the north and told IBNA that she's very happy that the barricade has been lifted.
Nevertheless, she doesn't believe that this can enable the free movement of Albanians who still have their houses in the northern part of Mitrovica.
"I don't think that the Serbs will allow us to visit our home. There are a group of radical Serbs there who still control this territory. As soon as they see a new face, they take him and interrogate him. They can be violent if they realize that he's an Albanian", says Nita.
Meanwhile, Ilma Zaimi, resident of the northern part told IBNA that she was very happy to learn of the lifting of the barricade. She believes that this act shows the normalization of the situation in this part of Kosovo.
"I hope for the situation in the north of Kosovo to be normalized. We pray for nothing to happen which could once again lead to the destabilization of the north of Mitrovica", says she.
Mayor of Mitrovica, Agim Bahtiri, who has visited the bridge during the night, said that such thing was expected and that the merit for this goes to him.
"This was expected. I've come to work closely with foreign diplomats, but also with people in the north of the city. I have delivered my promise, because as you can see, the barricade is being lifted.", said Bahtiri among others.
Meanwhile, Veton Rexha head of the Agriculture Department in Mitrovica has considered the lifting of the barricade as a historical act, saying that this is the happiest night for the residents of Mitrovica.
"It's a historical moment for the citizens of Mitrovica. This barricade was situated there for many years. I believe that this night will mark a new life with the free movement from both sides, for Albanians and Serbs and I believe that this night will be the happiest night for the citizens of Mitrovica", said Rexha.
The lifting of the barricade, which has been dividing the city of Mitrovica for several years and prevented free movement, was done by two excavators which have arrived from the north. /ibna/