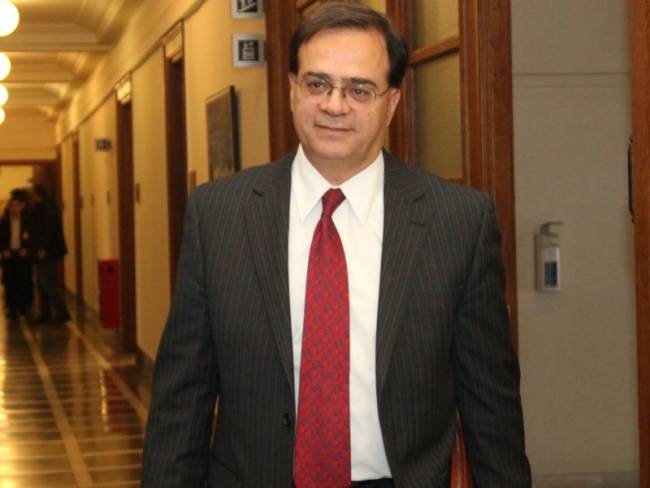 By Lefteris Yallouros – Athens
Greek Finance minister Gikas Hardouvelis will meet Eurozone counterparts in Luxembourg on Thursday as he takes part in his very first Eurogroup meeting since joining the government in a cabinet reshuffle.
Hardouvelis will need to reassure Greece's EU partners that he is committed to the country's reform effort and that the government will do the utmost to ensure prior actions are executed in their entirety as agreed with troika inspectors in order for the next tranche of Greece's rescue loan (EUR 2 billion) to be released.
Some highly unpopular measures will need to be taken including the abolition of third-party levies, a reduction in pharmacies' profit margins and the introduction of a new ethics code for ministers and MPs from a series of 12 prior actions.
Athens missed a deadline in June and therefore it did not receive a EUR 1 billion tranche. Hardouvelis now has to "convince" peers that the government will press on with the six outstanding commitments by the end of the month along with the remaining six tasks due for completion by the end of July such as adopting a law for the creation of a "small" Public Power Corporation, a new legislation that will allow all public sector supplementary pension funds to be merged with the private sector's main pension fund (ETEA), as well as implementing a new trade law.
As if the baptism of fire at the Eurogroup meeting was not enough, upon returning to Athens Hardouvelis will have to prepare for his first meeting with the troika insectors, which will take place in Athens July 8th.
The Greek government appears in a state of disarray since the cabinet reshuffle as several ministers have publicly vowed to take measures seemingly opposed with obligations outlined in the adjustment program. Analysts point out that the PM must ensure commitments are honored in order for talks with EU allies to begin on debt relief in October.
"There is no way reforms will be dismantled," government spokeswoman Sofia Voultepsi said on Wednesday, adding however that individual ministers had the right to propose minor amendments which don't affect prior actions.
So far a very public dispute between Education minister A. Loverdos and Administrative Reform minister K. Mitsotakis saw the former insist the latter's civil service mobility plan should be adjusted to cater for the rehiring of a number of public workers in Education. Loverdos also said that he was reluctant to adhere to the budget as he did not vote for it in Parliament.
Refusing to take agreed measures with the troika will not go down well with the country's lenders and Hardouvelis is bound to be reminded of that as he takes his place amongst Eurogroup Finance ministers in Thursday's meeting.