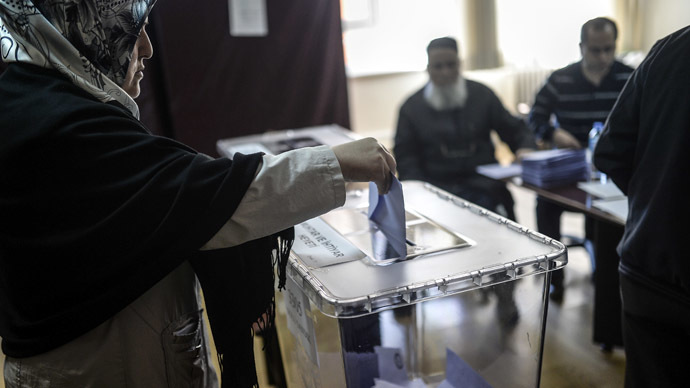 By Manolis Kostidis – Anakra
According to the opinion polls research company Ipsos, AKP's voters ignored the bans on Twitter and YouTube. 82.3% of the Turks who voted for AKP said their opinion did change after the bans, with 11.9% saying it strengthened their resolve for the party! The same goes for the sound documents that were leaked on the internet showing the Erdogan government's corrupt way of functioning. 79.4% of AKP's voters stresses that they are indifferent towards these documents, while 14.6% say they have caused them a greater willingness to vote for AKP!
In the same survey, 84% of  AKP's voters emphasize that the main reason for their choice is the leader, meaning Erdogan, as well as the construction projects. In the Republican People's Party (CHP) the same figure for the leader plummets to 55% and the most important factor for its selection with 61% are the party's policies.
April fools joke with Facebook
However smiles were caused by the April fools joke by many turkish media. The site haberler.com, as breaking news broadcasted the news that "after Twitter and YouTube, Facebook was also banned". There was panic, everyone began to send messages to their friends, but after a few minutes it turned out to be the joke of day, leaving everyone wishing it will not become a reality .
What will Gulen do next?
In Turkey, the big question is what will happen to the order of the Imam Gulen. The Prime Minister has declared "war" against him. He has already filed charges against five journalists affiliated to Gulen and accuses them of "spying"!
Ruşen Çakır, of the newspaper Vatan, believes that in the following days the self-exiled Imam, who lives in Pennsylvania will try to regroup his forces. "I don't think he will try to approach Erdogan. But he will try to explain to his faithful of what happened and will look for economic and political resources. I do not exclude the possibility to increase his attacks against the Turkish prime minister in the next few weeks; perhaps the final solution for him. But we must admit that from now on the initiative is in Erdogan's hands".