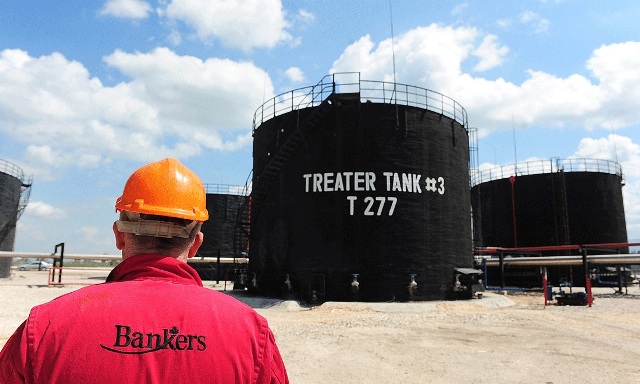 Tirana, 21 March 2016/Independent Balkan News Agency
Bankers Petroleum, the Canadian company that has exploited the oil wells of the area of Patos-Marinez in Albania, has signed an agreement for the sale of all of its shares to the Chinese company 'Alberta' Ltd (purchaser) and 'Charter Power Investment Limited', an affiliate of  company 'Geo-Gade Petroleum Corporation'.
IBNA confirmed by Bankers that the value of the sale was 575 million Canadian dollars.
The Purchaser and Charter Power are affiliates of Geo-Jade Petroleum Corporation ("Geo-Jade"), one of the largest independent oil and gas exploration and production companies in China.
The transaction will be effected by way of a plan of arrangement under the Business Corporations Act (Alberta) (the "Arrangement").  The Arrangement values Bankers at approximately C$575 million before the assumption of the outstanding indebtedness of Bankers.
Bankers oficial sources said that "the Arrangement has received the unanimous approval of the Board of Directors of Bankers and carries the full support of Bankers' management team".
The Purchaser brings a considerable new investment focus to the Bankers portfolio of assets Bankers' corporate and technical headquarters will remain based in Calgary, Canada, with operational offices in Albania, Hungary and Romania.
David French, President and Chief Executive Officer of Bankers commented: "The proposed transaction provides Bankers with the opportunity to return value to our shareholders at a significant premium to the current market valuation, while offering Bankers added financial resources to accelerate our activity in Albania and capitalize on the potential created by the current commodity price environment".
"This transaction will generate substantial economic benefit for Albania and the local communities in which Bankers operates. We look forward to working alongside our new investors to deliver the asset possibilities before us", – French says.
The Purchaser plans to realize the joint vision of both companies to grow the business with enhanced investment into its Albanian operations, while concurrently focusing on growth opportunities in the global marketplace.
Completion of the Arrangement is subject to customary closing conditions, including receipt of court, shareholder and regulatory approvals, such as those required under the Investment Canada Act and approvals required by the People's Republic of China.
The sale of all Bankers' shares follows a debate between the Albanian government and this company on financial issues. The Albanian government accused Bankers for tax evasion and froze its bank accounts in order to collect 75 million USD from them. /ibna/
More: Strong debates and a wave of threats between Albanian government and Bankers Petroleum