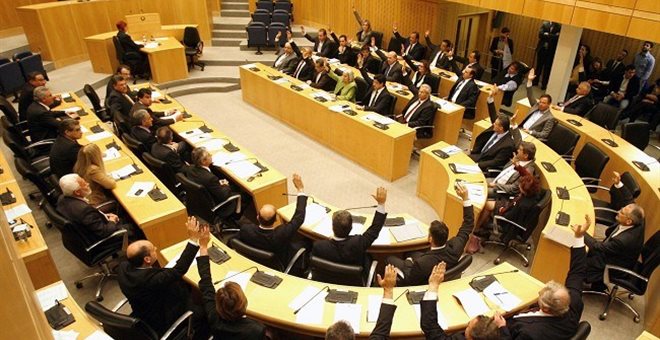 By Kyriacos Kyriacou – Nicosia
The House Ethics Committee of Cyprus decided not to publish the names of people and companies which transferred cash abroad before March 2013, when the government agreed to close the country's second largest bank (Laiki bank) and to impose a bank deposit levy on uninsured deposits in the largest bank (Bank of Cyprus), part of a 10 billion euro bailout program.
The Comittee's decision was taken by majority vote. Opposition left wing party AKEL and ruling right wing DISY voted in favour, while centrist DIKO and socialist EDEK disagreed.
Chairman Demetris Syllouris said the committee wanted to give time to the Central Bank governor to process the data. "The committee has decided by majority vote not to publish the names at this stage without processing," Syllouris said. He said the committee will carry out a more in-depth study of the information in its possession and decide by the end of June. Syllouris rejected suggestions that the decision could be viewed as a cover-up. "I don't get it; are we tossing dirt in our eyes? Did we find the data to cover it up? We found the data to process it," Syllouris said.
The prior decision of the Committe was to include the entire list of 11,000 names in a report, which is under process, looking into the reasons for the economic meltdown. Seconds thoughts were made for publishing the list, after warnings made from the business world that this will damage the economy and discourage foreign company in investing in Cyprus. The final report of the economic meltdown, will be discussed at the Parliament, in May 6th, before published.
According to the findings of a draft report for the economy collapse that was recently leaked to the press, those who transferred money abroad, shortly before the haircut on deposits, may be suspect of having acted on inside information that was not available to the general public. Furthermore, the Committee of Ethics believes that anyone who secured favorable terms on their loan may be suspect of contributing to the collapse of the banking system. However, the Committee says that not everyone on the list is guilty or even a suspect.
It is worth saying that a criminal investigation is also underway by the Attorney General of the Republic looking for criminal offenses by politicians, bank officials and others that contributed to the destruction of Cyprus economy.