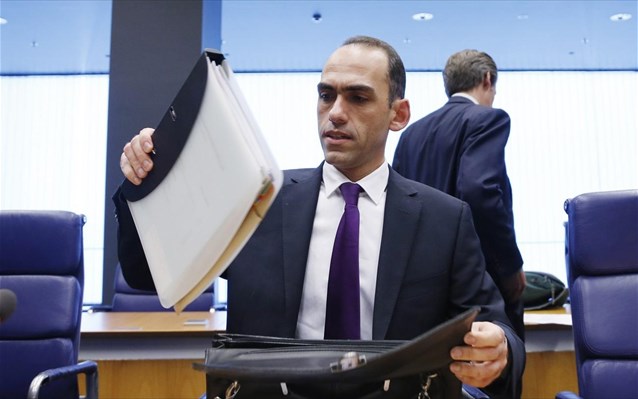 By Kyriacos Kyriacou-Nicosia
Further relaxation of bank restrictions in Cyprus will be announced in the next coming weeks, Finance Minister Haris Georgiadis said. Bank of Cyprus (BoC) the biggest lender which island's biggest lender which exited resolution status in July, will not be exempted as some press reports have suggested, he clarified. "This is totally wrong. Bank of Cyprus is now on the same level as the remaining banks in Cyprus. And there won't be any decision taken which is either more or less favorable towards any of the islands banks", he told.
"We are on track with Bank of Cyprus' road map which provides exactly the gradual relaxation of all restriction measure", he added.
Blocked notice acounts
Regarding blocked notice accounts which expire on January 31, BoC has yet to decide whether to renew or release them", he also said.
"The management of Bank of Cyprus has not decided on this yet. This is what I was told on Monday during talks I had with both the management and the board," he added. The blocked funds are what was left of uninsured deposits that were divided in July- after the haircut decision in March- into six-month, nine-month and 12-month notice accounts.
BoC is reportedly 'pushing' for the release of the six-month bonds at the end of the month because this would make available some 900 million euro to the market and boost its own credibility as it returns to normality.
List of exempted organisations
The minister also explained in a letter sent to parliament about the nine categories exempted from the hair-cut on uninsured deposits after the collapse of the banking system in March. These include both private and state organisations. Among them are investment funds of private insurance companies, charity organizations, private sector profit groups such as JCC and private educational institutions as well as some financial institutions. One of the main reasons the Minister noted in his letter is that foreign banks would have refused to carry out any transactions with Cyprus if certain exemptions were not made.
Also, he said that the education system of Cyprus would have been gravely hurt if tertiary-level institutions were not exempted.