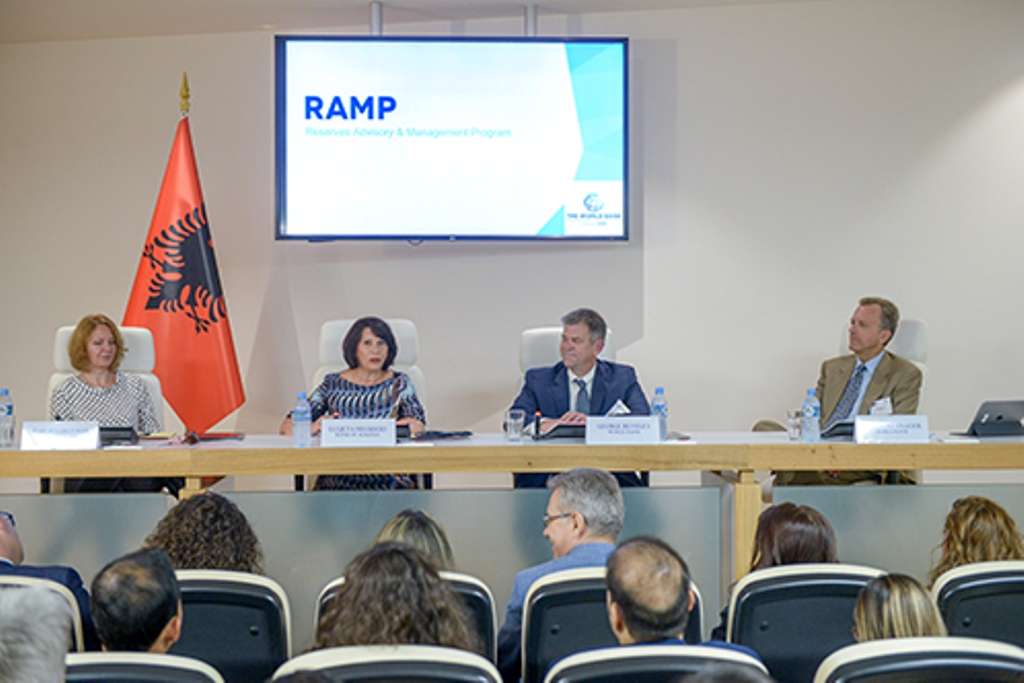 On 15-19 July 2019, the Bank of Albania co-organises with the World Bank Treasury the Workshop on Legal Aspects of Governance and Asset Management. This event brought together representatives from the World Bank Group, the Bank of Albania, central banks from 28 countries and representatives from financial institutions.
This workshop focused on dealing with legal issues related with the foreign exchange reserve management.  In capacity of the authority responsible to maintain and manage the foreign exchange reserves of Albania, the Bank of Albania employs its best possibilities to maintain a certain level of foreign exchange reserves that guaranties the financial stability of the country.  Given that the accomplishment of this activity is entirely developed in international financial markets, it is indispensable to have a deep expertise in the legal field and the continuous upgrade with the new legal changes and acts adopted by the regulatory authorities of these markets.
The First Deputy Governor of the Bank of Albania, in her welcome remarks, Ms Luljeta Minxhozi, highlighted the importance of organising this event, and thanked the World Bank Group on the technical assistance proved in years to the Bank of Albania in the field of reserve portfolio management.
Ms Minxhozi stated that the Bank of Albania pays a particular importance to the maintaining and management of foreign reserve portfolio.  The well-functioning of this process imposes the need that the Bank of Albania's employees, either working or monitoring this process, enhance their professional capacities.  For this purpose, the Bank of Albania has been engaged in the Reserves Advisory and Management Program (RAMP) with the World Bank Treasury since 2005. After successfully completing the first phase of the program in August 2010, the Bank of Albania entered the Graduate Program, which is still on-going. It provides the Bank of Albania's staff the possibility to receive training and technical expertise at a more advanced professional level.
The First Deputy Governor Minxhozi emphasised that currently the most important challenge for central banks that aim to diversify and explore new investment alternatives for the reserves portfolio, is being properly informed on legal aspects of investment processes of foreign reserve portfolio in international markets. Therefore, the discussions and issues addressed in this workshop are crucial for enhancing the professional capacity of the technical experts engaged in this process.