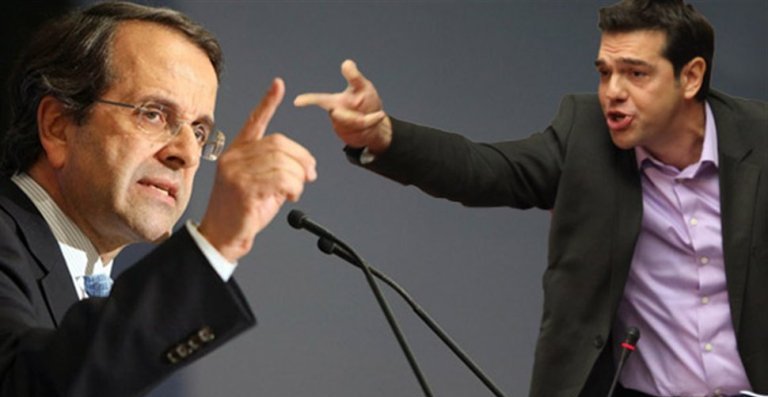 Athens, January 12, 2015/ Independent Balkan News Agency
By Lefteris Yallouros
Less than two weeks away from a crucial general election in Greece, front-runners New Democracy and SYRIZA have mostly focused their campaigns on the future of the economy.
The snap election battle, however, has brought economic life in Greece to a standstill. As citizens wait for the election to determine who will govern the country, reports suggest there have been significant deposit outflows in recent days while Greeks are also postponing paying their tax obligations as well as other debts towards the state and banks.
The Central Bank of Greece (BoG) issued an announcement Sunday, reassuring markets – and citizens that have apparently withdrawn deposits due to rising political uncertainty – that the banking system is safe and the outflow situation is under control.
"After reports about deposit outflows from the country's banks, the Bank of Greece notes that the situation is under full control," the central bank said in a statement.
"The Bank of Greece along with the European Central Bank (ECB) are monitoring closely the developments and intervene whenever this is necessary," it said, adding that the ECB has been offering credit facilitation to countries that were on a fiscal adjustment programme since 2010, a policy which is not affected by political developments.
Conservative New Democracy and left-wing SYRIZA meanwhile saw another opportunity to start a war of words. SYRIZA said the BoG announcement is proof that there is no crisis stemming from deposit outflows despite attempts by fear mongers to shift attention to the story.
New Democracy issued a strong response, saying SYRIZA ignores the fact that the ECB has officially said Greek banks will be funded for as long as the country implements an adjustment and reforms program. Greece's current bailout deal expires February 28th.
Samaras v. Tsipras
The leaders of New Democracy and SYRIZA, Antonis Samaras and Alexis Tsipras respectively, themselves took the opportunity to attack each other over the weekend.
Antonis Samaras said SYRIZA aspired to a "Soviet-style economy" and was making pledges it could not keep. "When someone promises you everything… without telling you how he will pay for it, he will take it back with interest," he said.
Campaigning in the Peloponnese, SYRIZA leader Alexis Tsipras accused Samaras of trying to scare Greeks. Tsipras also said that continuing austerity policies would turn the country into a "colony" while stressing the need for "a break from the past."