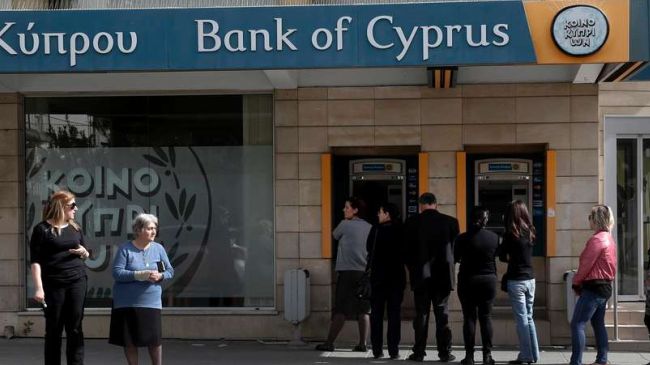 By Kyriacos Kyriacou – Nicosia
Bank of Cyprus (BOCY) announced it is examining further options with regard a possible capital raise and will proceed with the assessment of potential investors. Press reports suggest the Bank is considering a capital raise of €0.5 billion.
BOCY, Cyprus` largest lender has been recapitalised by converting deposits over €100,000 in the context of a €10 billion bailout Cyprus concluded on March 2013 with the EU and IMF. The process, known as a "bail-in", marked the first time in the history of the euro zone debt crisis that distressed banks used client funds to recapitalise, instead of EU tax payers.
Based on its first-quarter results, Bank of Cyprus had a core tier 1 capital, a ratio of financial strength, of 10.4%, increasing slightly to 10.6% from the disposal of Serbian assets in May. Under stress test baseline scenarios it should exceed 8%, and in an adverse scenario 5.5%.
The Cypriot bank is one of more than 100 across the eurozone which will be assessed by regulators under simulated conditions of financial stress.
"Very prudent move"
Cyprus Central Bank Governor Chrystalla Georghadji said on Tuesday that a capital raise by all Cypriot banks would be a "very prudent move" ahead of the EU stress test to be carried out by the European Banking Authority the coming October.
"Further to announcements dated 5 June 2014 and 23 June 2104, Bank of Cyprus Public Company Ltd (the "Bank" or the "Group"), announces that it is examining certain funding and capital options in line with the proposals of its advisors. The proposals aim to expedite the implementation of the Group's Restructuring Plan in tandem with the further strengthening of the Group," the Bank said in a statement following a lengthy meeting of the its Board Directors on Thursday.
"The Group is proceeding with the assessment of potential investor interest regarding these options and will issue further announcements when and if there is further tangible progress, subject to the approval of the Board of Directors in a future Board meeting," the statement concludes.