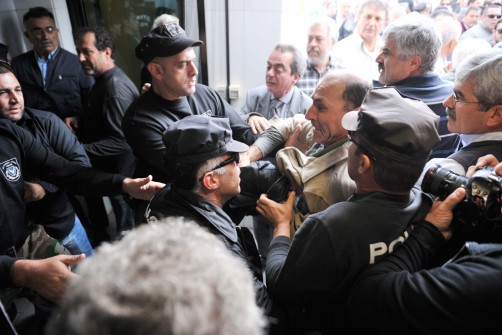 By Kyriacos Kyriacou-Nicosia
The Bank of Cyprus Annual General Meeting (AGM) elected Thursday a new Board of Directors, as angry protesters, outside the bank's headquarters, tried to enter the building.
The AGM elected the new board, following a recent €1.0 billion capital raise, the biggest foreign direct investment in the island`s history.
The bank has been recapitalised with depositor money, as part of a €10 billion bailout Cyprus received from the EU/IMF, under which 47.5% of uninsured deposits over €100,000 have been converted to shares.
The Bank`s CEO John Patrick Hourican, the deputy chairman Vladimir Strzhalkovskiy, Ioannis Zographakis and Marios Kalochoritis were relected to the new Board of Directors. The new Board members are: Josef Ackermann, Arne Berggren, Maksim Goldman, Christodoulos Patsalides, Wilbur Ross and Michalis Spanos and they have the backing of the new major shareholder of the bank Wilbur Ross.
Zacharias Palexas, whose name was put forward by former Laiki bank depositors (SYKALA), who hold 9,6% of the bank's shares, was not approved by the AGM (88.6% voted against his election and 11.4% in favor).
A special resolution approved by the AGM stipulates that the number of the Board members shall be no less than 7 and no more than 13.
Tensions outside
Bond holders, who lost their money after the bank's bail-in in March 2013, gathered outside the bank`s headquarters, threw various objects at the building and tried to enter it. Tensions ran high when the Minister of Finance Harris Georgiades arrived.
Both outgoing BoC Chairman Christis Hassapis and Managing Director John Patrick Hourican highlighted in their addresses the stronger position the bank is in today and its capacity to be at the forefront of Cyprus` economic growth.
Hassapis said that taking into account the state the bank was in when the current leadership took over and where it is today "I feel great satisfaction with what has been achieved. We are handing over to the shareholders the new Board of Directors, a bank with concrete capabilities."
Referring to the proposal that Josef Ackermann, former Deutsche Bank CEO, from Switzerland, should take over the post of Chairman of the bank, he said that "it constitutes an important step in the efforts to successfully deal with the challenges the bank faces and its capability to continue to play its traditional role in funding the real economy as the country`s largest bank".
In terms of deposits, Hassapis said there is stabilization, despite the abolition of all internal capital controls in the financial sector and the gradual release of frozen deposits earlier than provided by the Restructuring Plan.
President of the Association of Former Depositors of Laiki Bank (SYKALA) and member of the outgoing Board, Adonis Papaconstantinou, who asked to address the Assembly, said that the Association whose members hold 9.6% of the share capital of the bank should be represented on the Board.
Saying that former Laiki Bank depositors are 15,000 people in total, who hold over 7 billion euro of the BoC deposits, Papaconstantinou said that the proposal to stop him from being elected to the new Board "is against these 15,000 people."