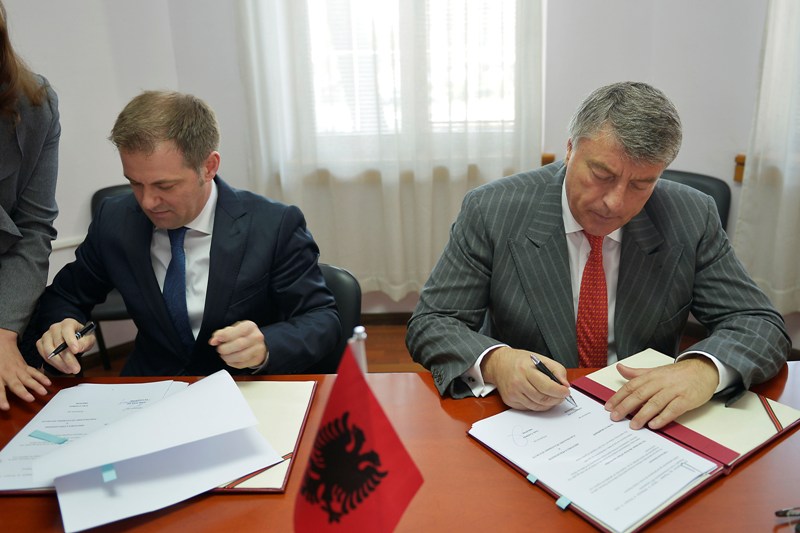 Tirana, June 12, 2014/Independent Balkan News Agency
Bank of Albania has signed an agreement of cooperation with the Financial Intelligence Unit (FIU). This agreement comes in the framework of the fight against money laundering and funding of terrorism, in an effort to implement the recommendations issued by FSAP of the World Bank and International Monetary Fund.
The agreement was signed by Governor of the Bank of Albania, Ardian Fullani and head of Albanian FIU, Genti Gazheli (photo).
Mr. Fullani says that the scope of this agreement is to boost collaboration between these two institutions, in order to facilitate exchange of information, aiming to strengthen the risk based oversight approach, in order to prevent money laundering and funding of terrorism.
"This agreement aims to increase the monitoring role in order to strengthen the preventing system in the country and to reduce the possibility of using the financial system for money laundering and funding of terrorism", said Governor Fullani.
Head of FIU, Genti Gazheli says that the agreement will have an impact in boosting up efficiency of both institutions by carrying out inspections and joint activities, improving the use of human resources and reducing financial costs not only for them, but for subjects themselves.
On the other hand, Governor Fullani points out the important role that the implementation of this agreement plays along with cooperation between banking sector and public. "We must have an educated public that understands the law and is ready to collaborate with banks, in order to apply the law as efficiently as possible and to achieve the necessary results on this challenge". /ibna/