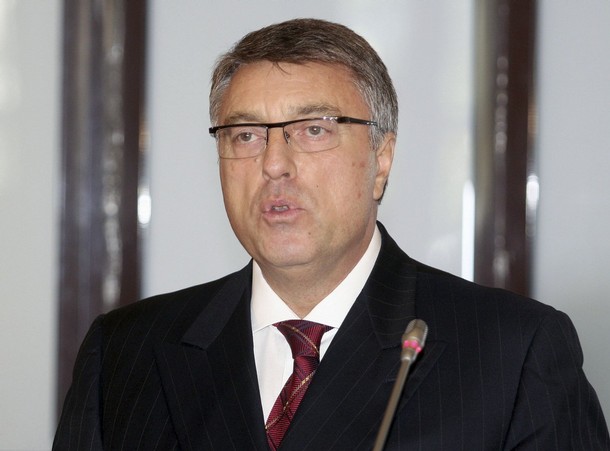 Tirana, August 27, 2014/Independent Balkan News Agency
Governor of the Bank of Albania, Ardian Fullani commented today for the media the heist that occurred at the Bank of Albania.
He said that the missing amount is 713 million ALL, while adding that there will be a consecutive inspection by the High State Audit, underlining that work is being done with international partners to bring here the full assistance which would guarantee all measures in order to have a perfect regulation framework and in order for such situation not to happen again.
"Bank of Albania is completely engaged in taking measures in order to protect the market. This theft marks an isolated case, but it will be investigated fully in order for such cases not to be repeated again. Bank of Albania is an independent institution, responsible and transparent. It communicates with high levels and I want to assure you that the information provided by the Bank of Albania for the head of the economy parliamentary committee was based on the law. As far as the remaining part is concerned, he was invited in the Bank's premises to see all the required documents", said Fullani.
Asked by journalists if he was summoned at the prosecution to testify in relation to the theft, Fullani said that the Bank of Albania collaborated since the very first moments when the heist was made public.
Fullani said that if there's someone who's more interested in order for this case to be solved, than this is the Bank of Albania and the governor said that the responsibility here is great.
The governor said that the reviewing of regulation is an ongoing process, while as far as the theft at the Bank by the personnel is concerned, he said that after the identification, the first thing that must be done is to review all acts in order for such events not to happen again.
The theft at the Bank of Albania occurred during the time when the Bank of Albania appointed a commission which would make inventory of cash that was taken out of circulation and those which were introduced into circulation.
Police arrested two bank employees, Ardian Bitraj and Mimoza Bruzia. Bitraj, in cooperation with Bruzia, are accused of embezzling  from the stock, significant amounts of money which had been prepared to be introduced into circulation or others that were going to be destroyed.
Earlier in his speech, the governor of the Bank of Albania said that  after the meeting of the Oversight Committee of the Bank of Albania, the base interest rate was decided to remain unchanged at 2.50%. According to him, inflation has seen a rise of 1.8%. /ibna/