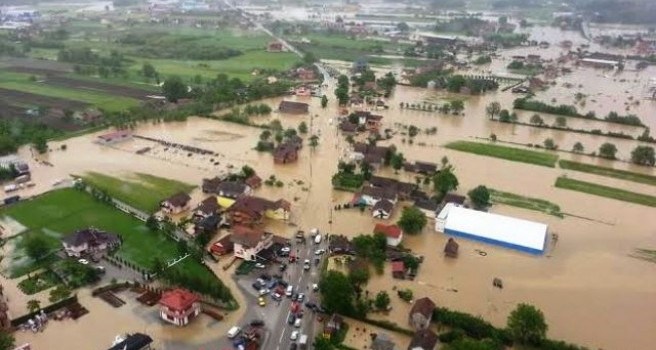 Banja Luka, October 14, 2015/Independent Balkan News Agency
By Mladen Dragojlovic
According to the Hydrometeorological Service of the Republica Sprska report, the water levels of the rivers Vrbas and Vrbanja in Banja Luka are normal, albeit slightly increased. The citizens of the city however, keep a close eye on weather forecasts and wait for the rain to end.
"Every rain, like this in last two days, awakens memories and fear that we will have a situation similar to the one more than a year ago, in August last year. That was chaos and the City Government didn't solve the problem. We are entering the second fall and all they did was to put bigger pipes underground to lead the water from the creek under the road", Djuro Miljkovic, a citizen of Banja Luka district Potok, told the media.
In August 2014, heavy rains filled the creek with water and, when the flow was greater than pipes under the road could take, the water poured on the asphalt, causing extended damage to roads and houses around it. Cars, parked on the road, were carried away by water as if they were matchboxes, with many of them ending up upside down. Sinan Culum, a citizen of same settlement, opened the doors on the rear and front side of his house to allow the mug to go through. Amidst the chaos which was prevalent on those days, many delegation visited this part of Banja Luka and promised to help.
"We received about 2,000 euros as help for the reconstruction of our residences, but that was not enough to cover the expenses. From the City Government they said that now the situation is under control, but we still live in fear. I am old man and I will, as I can see now, die with that fear, Miljkovic said.
Inhabitants said that it is true that the City Government financed the construction of the retaining wall in order to prevent reactivation of the landslide, on the part of road. The road, which was partly asphalted before, today is just mud.
In an attempt to prevent situations similar to August last year, the City Government ordered stronger control of the torrential streams.
"Banja Luka Mayor, Slobodan Gavranovic, ordered the Civil protection service and utility Companies to increase their level of alertness and to control all weak points of the City", announced the City Government.
The Department for Civil protection in the City Government warned citizens to be careful and to take all necessary measures if they notice that the water is threatening their properties. As it is announced from this Department, the situation on the field is still normal but floods are possible since weather forecasts foresee heavy rains in Banja Luka in the next two days.
Djuro hoever, doesn't believe that these actions are enough to save citizens from a similar catastrophe.
"They must solve the problem in a proper manner. If they don't, we will be facing floods again", Djuro stressed.