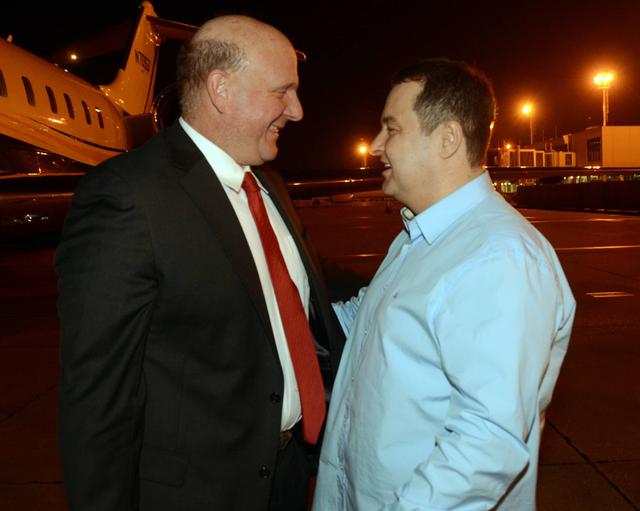 By Miloš Mitrović – Belgrade
Serbia has a tremendous potential in the Information Technologies (IT) domain, Microsoft Corporation Chief Executive Officer Steve Ballmer said on Tuesday after he had a meeting with Prime Minister Ivica Dačić and his deputy Aleksandar Vučić.
Dačić welcomed Ballmer at the Belgrade airport on Monday evening (photo).
IT sector can make an impulse for the Serbian economy development and for the economic recovery as well, Dačić told Radio Television of Serbia (RTS). Dačić emphasized that Ballmer`s visit would help international image of Serbia to be improved.
According to Dačić, constructing Microsoft's regional center in Belgrade, which had been agreed during PM`s meeting with company founder Bill Gates in the United States earlier this year, was among the issues discussed with Ballmer. Education would be of the essential importance in order Belgrade to become true regional IT center, Dačić rendered.
"More than 12 years ago we have opened Microsoft office in Belgrade following our passion to help both individuals and companies to reach their objectives. Today, we are similarly leaded by such an passion while we are providing our services to the local companies as well as creating new partnerships and developing new technologies in our Belgrade`s Developing Center", Steve Ballmer stressed.
One of the leading economists in the world Jeffrey Sachs has also visited Belgrade on Tuesday. Sachs, who is well known after his shock-therapy which has been applied in several Eastern-European Countries following the collapse of communism, met Deputy PM Vučić. Sachs said he and Vučić discussed economic situation in Serbia and "exchanged the ideas".
When asked by journalists what he would advice with regard to Serbian economy, Sachs answered that high rate of youth unemployment "is the issue of high concern".
"My fundamental advice (to Serbia) is that you should be flexible, ready for the changes… Good skills and education are of the great importance". However, he explained that international challenges were the reason he has came to Belgrade, rather than "concrete problems" of Serbia.
Sachs attended the first meeting and the promotion of newly-established NGO Center for International Relations and Sustainable Development (CIRSD). Sachs is the CIRSD board member; the organization was founded by the former Serbian foreign minister Vuk Jeremić who recently ended his term at the post of UN General Assembly president.
Another economy expert visited Belgrade on Tuesday. Dominique Strauss-Kahn, former IMF director who has recently been appointed adviser of the Serbian government, met economy minister Saša Radulović as well as the representatives of the businessmen associations and bankers. Big and troubled state-owned companies were at the focus of attention of Straus-Kahn`s talks with minister Radulović. Strategic partners should be found to privatize these companies, and Serbian government would "take care" of the workers which should be fired, RTS reported.