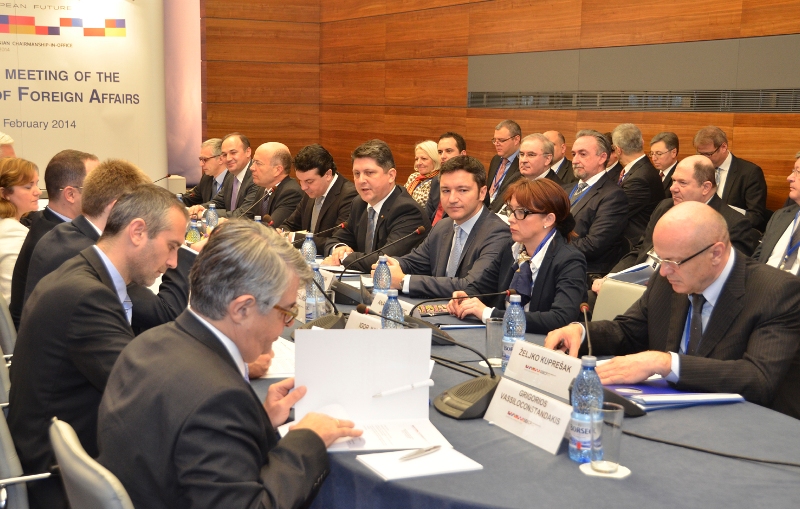 Pristina, February 21, 2014/Independent Balkan News Agency
By Elton Tota
The government demands the accession of Kosovo at SEECP
Foreign Minister of Kosovo, Enver Hoxhaj has demanded in the proceedings of the second informal meeting of the South East European Cooperation Process (SEECP), for Kosovo to become a member country.
In front of foreign ministers of member countries of this important organization, minister Hoxhaj has talked about the impact of SEECP in the region and offered his reasons why Kosovo must become a member of this organization.
"We share the same point of view that the European project is based on cooperation, as an instrument for reconciliation, economic development and further progress. Therefore, engagement for regional cooperation is at the same time a need and an efficient instrument for European integration", said Hoxhaj.
Hoxhaj expressed the determination of Kosovo to be part of SEECP, which he considered as the most important organization in terms of regional cooperation.
"We're grateful to all the members for their support given to our accession and we praise the appeal of the European Union to welcome Kosovo at SEECP. This would be in line with the agreements between the Republic of Kosovo and Republic of Serbia reached in March 2012 and April 2013", said Hoxhaj, adding that the involvement of Kosovo in this incentive is in line with the main priorities of SEECP and this would contribute to the consolidation of peace and development of the region.
Foreign Minister also said that Kosovo considers regional cooperation as the most important and essential process to bring Kosovo and Western Balkan closer to the European Union and NATO.
Balkan must generate peace and stability
The head of Kosovo's diplomacy says that SEECP may be a serious forum in strengthening cooperation and the integration agenda.
Hoxhaj has also expressed the determination of Kosovo to work together in order for Balkan no longer to be perceived as a model of division, disintegration and violence. "Our joint efforts may transform the Balkan into a region that generates peace, stability and prosperity", said he.
As far as the engagement of Kosovo for accession in regional organizations is concerned, minister Hoxhaj said that in the past 6 years, Kosovo has been focused on two main things: to build a multi-ethnic state and to strengthen the international position of Kosovo".
Hoxhaj says that since 2008, Kosovo has proved to the international community that it's a factor of security and stability in the region.
"We have shown a will to strengthen cooperation with all neighbors and countries of the region", says Enver Hoxhaj.
Referring to the agreement reached in March 2012 between the Republic of Kosovo and Republic of Serbia in relation to the regional representation and participation, and the challenges that Kosovo has faced since then for the accession in this organization, Hoxhaj stressed that the results that have been achieved and the obstacles that have been encountered relate to the policies of exclusion and blockade followed by Serbia.
"Without Kosovo, regional cooperation is not complete", said Hoxhaj, who expressed the full commitment of Kosovo to be part of all institutions and organizations of the region. /ibna/