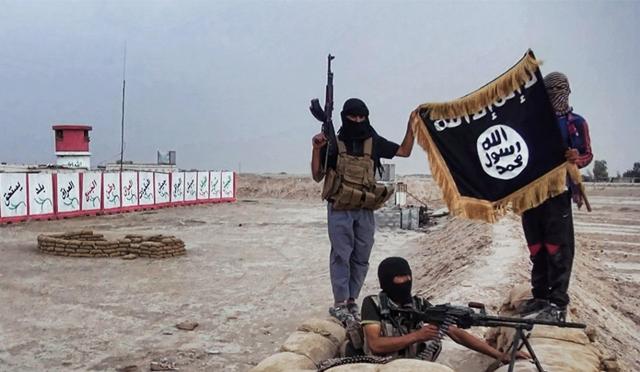 IBNA Special Report
Tirana, January 19, 2015/Independent Balkan News Agency
A group of Albanians from Albania and Kosovo have formed an organization in Italy, in order to recruit IS (Islamic State) fighters. Sources from the Albanian General Prosecution say that they're communicating with their Italian counterparts over suspicions about a group called "Balkan Spinners".
The group has created jihadist cells which mainly operate in Italy. The members of the group, mainly Albanians from Albania and Kosovo, recruit young jihadists and send them to Syria.
Declared as migrant workers in Italy, these people have made many efforts to convince citizens who live in Italy to join jihadist groups and go to Syria as fighters.
Based on the investigations, the cells recruit these people by convincing them on the reasons why they should go and fight in Syria. After this, those who are persuaded, go through Albania, Turkey or Greece and then into the war zone in Syria.
Investigators say that four bases of the jihadist network in Italy have been currently identified. The main cells are situated in Rome and Milan, but also in other areas such as Lucca and Siena.
In the Italian capital Jihadist cells have been identified as the most well organized ones, operating with intensity in the Centocelle quarter. All of these persons are under investigation. They are considered as very dangerous, because they represent the harshest jihad extremism. Their duty is to recruit people who aspire to fight in the Islamic State. This phenomenon has long spread in Albania and Kosovo, where inquests have been launched too.
There are around 150 Albanians from Albania and Kosovo, who are well known among ISIS jihadists in the Balkan.  According to the inquiries, Genci Balla and Bujar Hysa, two people who have been self declared as imams, have been key figures of the recruitment activity during the time spent in prison. They had contacts with funders in Albania, Kosovo and FYROM and among them is Ebu Usejd, from Elbasan, who along with other funders from Elbasan and Tirana, have funded Balla and Hysa and facilitated their objective of sending to Syria Albanian citizens, Italian citizens and citizens of other nationalities. Coming back to the case of Italy, at the moment, four bases of the jihadist network have been identified" In Milan, in Lucca, Siena and Rome. According to Italian anti-terror agents, "the main difficult consists on the identification of the quarters where these groups operate".
Terrorist threats discussed by the EU
The latest security concerns in the European continent, are the cause of today's meeting of EU foreign ministers.
The meeting is discussing on Syria, Iraq and Islamic State.
Terrorist attacks in Paris last week and the raids carried out against a jihadist cell in Belgium, have caused fear from the threats that Europe faces.
These threats come from European citizens that return from battlefields in Syria and Iraq.
Albania gathers the National Security Committee on terrorism
Albanian authorities are worried about the latest situation in Europe, following the terrorist attacks in France and the discovery of IS recruiting cells in Belgium and Italy. Moreover, some of these cells are closely tied to Albania.
In an effort to better coordinate fight against terrorism, president of Republic, Bujar Nishani called and held a few days ago, a meeting on issues that affect national security (photo). Present in the meeting were members of the National Security Committee, PM Edi Rama, Minister of Defense, Mimi Kodheli, Minister of Interior, Saimir Tahiri, deputy Foreign Minister, Odeta Barbullushi, General Prosecutor, Adriatik Llalla, head of the Secret Services, Visho Ajazi Lika.
Mr. Nishani said that terrorist activity no longer knows any boundaries. "We're clear about the fact that the activity of terrorist groups, which has started in a structured way from the ideological and practical point of view since September 2001 with the attack in the USA, in New York and then with the creation of other organizations; events in Iraq, Syria, but also the recent acts in Europe, show that this terrorist activity knows no boundaries. Every country, every democracy, every society and every citizen feels threatened, and therefore it's the obligation of our institutions toward the citizens of our country to assess this global danger, this danger to freedom and security and at the same time, to be coordinated for joint action in the framework of alliances".
Albania, exposed toward the terrorist threat
Experts say that Albania is a country exposed to terrorist groups. An expert of security at the Presidency, says that Albania is an objective and target for the exploitation of the territory in the framework of mass illegal migration. The expert says that terrorists can exploit the Albanian territory to be displaced into other countries, taking into account the geostrategic position of Albania, as the crossroad between Europe, North Africa and Asia.
Albania has also faced the so called phenomenon of "foreign fighters". Contingents from Albania are part of terrorist organizations that fight in Syria and Iraq and these are identified cases. Meanwhile, an expert of the Albanian government says that in Albania too, prisons are used as important platforms by terrorist and criminal organizations to indoctrinate, recruit or encourage from inside out their networks which engage in terrorist actions. According to the expert, contacts are maintained from prisons and criminal activities are led.
Rama: Religious institutions can stop terrorism
The fact that Albania is completely exposed toward international terrorist threat is also admitted by PM Edi Rama. "Albanian citizens from Albania or the region have responded to the calls of terrorist organizations such as Al Qaeda or the so called Islamic State, to fight in Syria and Iraq. Some of them have lost their life in these fights, leaving behind their families, wives, children and many other social and security problems", says Rama.
The PM says that religious institutions in the country, "are a strong force that Albania is lucky to have today on the right sight of history, in the field of this battle without compromise". "Tradition and their capacities are another big opportunity to limit the efforts of terrorist and criminal organizations in recruiting and manipulating people in the name of religion", says Rama. /ibna/