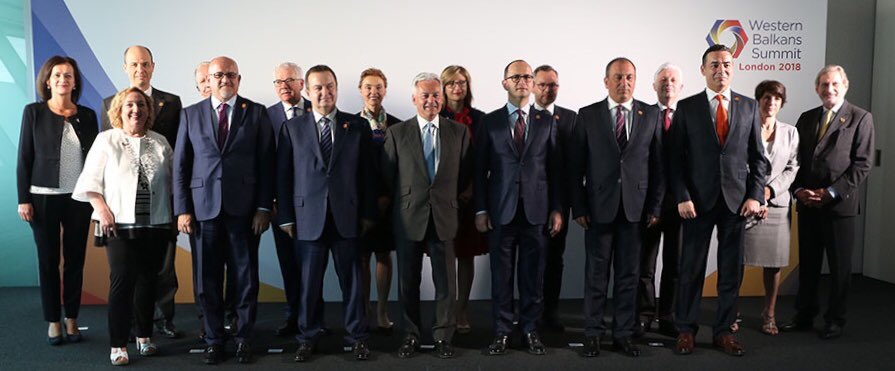 The 5th Western Balkans leaders summit held in London within the framework of the Berlin Process is underway at Lancaster House. Participating  leaders were greeted by the UK Minister for Europe Sir Alan Duncan as they arrived at the historic venue.
The summit focuses on Albania, Bosnia-Herzegovina, fYROMacedonia, Kosovo, Montenegro and Serbia.
It is the first time Greece is attending the summit, as Prime Minister Alexis Tsipras accepted the invitation extended by the British host Theresa May following the Prespes Agreement with fYROMacedonia's Zoran Zaev on his country's name.
Sources have told IBNA that Messrs Tsipras and Zaev will have the opportunity for a short face to face meeting and for a photo, in which they will probably be joined by the UK Prime Minister.
London has declared the name issue agreement "fantastic news". The importance of the agreement was also highlighted by the EU High Representative for Foreign Affairs Federica Mogherini.
Speaking to the gathered media at her arrival to the summit, Ms Mogherini said: "These countries have worked hard on reforms, on reconciliation, on neighbourly relations and on bilateral agreements that have been historic such as the agreement that Athens and Skopje signed two weeks ago… The EU recognises these efforts and is accompanying them on their way towards European integration."
Mr Tsipras is also scheduled to hold a bilateral meeting with his Albanian counterpart Edi Rama.
Also present at the summit are German Chancellor Merkel, the leaders of Bulgaria, Poland, Croatia, Slovenia and the French Foreign Minister.
A less formal, less political picture, on the sidelines of the WBSummit in London, in the spirit of the ongoing FIFA World Cup in Russia. British MP Sajid Javid with Croatian Davor Božinović. The former tweeted: "Pleasure to meet my Croatian counterpart Davor Božinović at #WBSummitLondon ahead of Wednesday's crunch World Cup semi. I made it clear in no uncertain terms that it was coming home"
Following the working lunch, the leaders will concentrate on the foreign relations of the six Western Balkan countries and then on issues of good governance, which the Berlin Process is aiming to nurture.
At the end of the summit the Prince of Wales will host a dinner for the participating leaders…. / IBNA
fYROMacedonian FM, Nikola Dimitrov and European Commissioner for European Neighbourhood Policy and Enlargement Negotiations, Johannes Hahn (at the very centre of the picture) at the Western Balkans London summit
Main Photo: Family photo of the 5th Western Balkans leaders summit in London