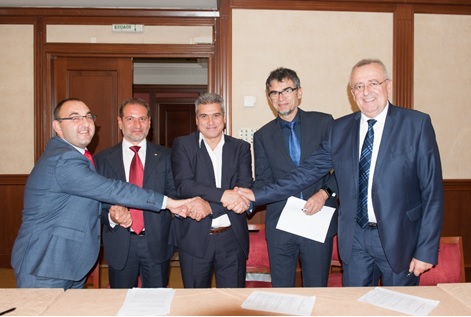 Workshops in Thessaloniki on issues related to the electricity and gas markets are being carried out by members of the Energy Regulators of the Balkan countries, with aim to strengthen the cooperation between them and to prepare for the next meeting, which will take place in Bulgaria in the autumn.
In this context and in an effort to strengthen the relations between the national Energy Regulators of the South-Eastern European region, through the constant exchange of best practices and experiences of these countries, the Balkan Advisory Forum was established in 2018.
Thus, tomorrow and the day after tomorrow, the delegations of the countries involved will meet in Thessaloniki, in order to take part in the Electricity Working Group and the Gas Working Group.
The Balkan Advisory Forum is a permanent advisory forum of the national Regulators of Greece (Regulatory Authority for Energy of the Republic of Greece- RAE), Bulgaria (Energy and Water Regulatory Commission of the Republic of Bulgaria- KEVR), Serbia (Energy Agency of the Republic of Serbia- AERS), Montenegro (Energy Regulatory Agency of Montenegro- REGAGEN) and North Macedonia (Energy Regulatory Commission of North Macedonia- ERC).
The aim of the Balkan Advisory Forum is to foster cooperation on energy-related issues that are of common interest (electricity, gas, water management, RES), on a voluntary basis.
The Greek RAE attaches particular importance to this specific initiative, considering it catalytic.
The meeting of the heads of the Energy Regulators of Greece, Bulgaria, Serbia, Montenegro and North Macedonia, that culminated in the signing of the cooperation agreement, was held in September 2018 in Thessaloniki, and this year's meeting is due to take place this autumn in Bulgaria./ibna